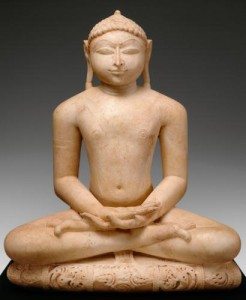 "Yoga: The Art of Transformation," the first exhibi­tion about the visual history of yoga explores yoga's rich diversity and historical transformations during the past 2,000 years.  These programs are made possible in part due to the Smithsonian's first major crowdfunding campaign, "Together We're One."  Launched in May 2013, the campaign raised more than $174,000 over 6 weeks to support public programs, yoga classes in the galleries, and an exhibition catalogue, as well as the behind-the-scenes aspects of the exhibition.
Opening on October 19th and on view through Jan. 26, 2014, "The Art of Transformation" examines yoga's fascinating meanings and histories through more than 130 objects from 25 museums and private collections in India, Europe and the U.S. Highlights include three monumental stone yogini goddesses from a 10th-century south Indian temple, reunited for the first time, 10 folios from the first illustrated compilation of asanas (yogic postures) making their U.S. debut, and a Thomas Edison film, Hindoo Fakir (1906), the first movie produced about India.
"This exhibition looks at yoga's ancient roots, and how people have been trying to master body and spirit for millennia," saidJulian Raby, The Dame Jillian Sackler Director of the Arthur M. Sackler Gallery and Freer Gallery of Art. "By applying new scholarship to both rarely seen artworks and recognized masterpieces, we're able to shed light on practices that evolved over time—from yoga's ancient origins to its more modern emergence in India, which set the stage for today's global phenomenon."
A free public festival, "Diwali and the Art of Yoga," Saturday, Oct. 26, will mark both the opening of the exhibition and Diwali, the Indian festival of lights.  Visitors can discover exhibition highlights through spotlight tours, play games from across Asia, attempt intricate rangoli (rice powder) drawings and make their own yoga-inspired art in hands-on workshops.  Indian classical musician K. Sridhar will demonstrate the yoga of sound, and storyteller Surabhi Shah will share tales of Indian deities. Free yoga classes will be offered throughout, and the day will conclude with a traditional lamp-lighting ceremony and a classical Indian music concert.
Following its Washington, D.C., debut, "The Art of Transformation" will travel to the San Francisco Asian Art Museum (Feb. 21–May 25, 2014) and the Cleveland Museum of Art (June 22–Sep. 7, 2014).
Additional support for the exhibition is provided by the Friends of the Freer|Sackler, Whole Foods Market, Art Mentor Foundation Lucerne, the Alec Baldwin Foundation, the Ebrahimi Family Foundation, IndiaTourism, Catherine Glynn Benkaim, media partner Yoga Journal  and "Together We're One"  donors.