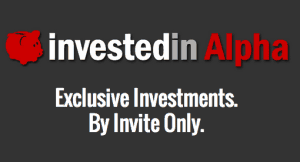 White label crowdfunding platform InvestedIn has announced a new platform targeting investment crowdfunding industry.  InvestedIn Alpha will launch an investment platform for introducing alternative investment firms to more than 70,000 accredited investors. A conduit for proven hedge funds and fund-of-funds managers and firms, InvestedIn Alpha connects investors, financial advisors and wealth managers directly with general partners at funds, potentially reducing the time and fees associated with identifying and securing high quality deal flow.  The platform is designed to bring institutional level products with institutional pricing to the marketplace.
As the Securities and Exchange Commission (SEC) has lifted the ban on general solicitation alternative investment funds now have the ability to more broadly advertise their offerings to accredited investors. InvestedIn Alpha's invite-only platform will initially feature 12 to 15 best-in-class funds for a competitive monthly subscription. Considerably lower than private placement fees, InvestedIn Alpha's competitive subscription fee offers access to more than 70,000 accredited investors at a rate considerably lower than traditional private placement fees. This innovative model will facilitate higher and cheaper conversion rates.
InvestedIn Alpha has been made possible by the recent acquisition of MyNewFinancialAdvisor (MNFA), the premier provider of scalable marketing resources to financial advisors and financial intermediaries worldwide.
"InvestedIn Alpha's technology is connecting the best hedge funds and fund-of-funds managers directly with accredited investors and facilitating relationships in a matter of moments that would have traditionally taken months," said Alon Goren, CEO and founder of InvestedIn. "In addition, investors can confidently invest knowing that they are working with alternative asset firms in the top 10 percent of the industry without paying high management fees large institutions usually charge for access."

"General solicitation provides hedge funds with tremendous opportunities to reach a larger pool of potential accredited investors," said Frank Troise, joining InvestedIn Alpha as Senior Vice President and General Manager. "Our platform creates an easy, secure and seamless way for the country's best alternative investment firms to find the best accredited investors."
The Santa Monica, California based InvestedIn Alpha is currently accepting membership for additional registered financial advisors, wealth managers, and individual accredited investors, giving them exclusive access to premium brands.

Sponsored Links by DQ Promote