Announces $3 Million in Funding from True Ventures
The Memoto Lifelogging camera successfully crowdfunded their "Lifelogging camera" on Kickstarter almost one year ago.  The team from Stockholm, Sweden raised $550,189 on a goal of $50,000.  The simple device they developed clips on y0ur shirt and then captures pictures automatically of everything you do allowing you to document or "remember every moment".  Even cooler the camera connects to your iPhone or Android device and organizes the images via their app so everything is tagged and dated.  And where do you store 2 photos per minute?  Yep that takes up a lot of space.  They estimate about 4GB per day or 1.5 Terabytes per year.  Well the lucky backers who jumped in this campaign get their first year of storage free.  The rest of us – $9 per month.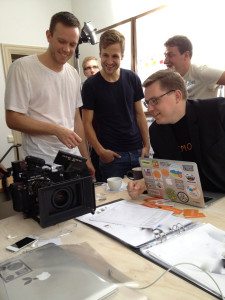 Now the supporters who expected to be the first on their block to have one of these cool devices originally expected to receive the first batch in February 2013.  As sometimes happens that deadline came and went.  In a backer update the project creators shared their apology and resolve to persevere:
There is a trap that many Kickstarter projects seem to fall into: that of miscalculating the time it will need to fulfill the pledges. For extremely successful projects, an extra challenge lies in delivering a larger amount of units than expected.

When we launched the Memoto Lifelogging Camera on Kickstarter, we were well aware of this pattern. We made a time estimate that we truly considered "conservative." We made sure to have a manufacturer and production process in place that wouldn't be harmed by an unexpected large volume. And so we launched, and looked forward to being one of the few that actually delivered on time.

Turns out, we still fell into the same trap as others before us…
But the Memoto team has finally prevailed and in an announcement to supporters have announced they expect to ship next month on November 1st:
Okay, so we have tons of exciting things to tell you today. But we think there is one thing you want to know more than anything else.

Shipping starts November 1st

That's right, after a long time of waiting for you and a long time of vague estimates for us ("end of summer", "soon" etc etc) we can for the first time set a date: November 1st will see the beginning of shipping and our earliest Kickstarter backers will naturally be the first to receive their units.

We're currently working on investigating at what pace we can roll out the approximately 2000 Kickstarter pledges and 3000 pre-orders. When we're ready with that we will open up an interface where you can log in with your email address and keep track of the date when you'll receive your personal shipment.

Happy times!
After building the brand they announced another change.  It appears existing trademarks on the name have compelled the team to now market themselves as "Narrative".  Either way – if the camera works as presented I want one soon.
More interesting news

On the less happy side of things, we have realized we will have to give up our name Memoto. "But, what… it's a great name", you probably say. Yes, we love it and it's great,except that there are existing trademarks hindering us from registering it worldwide. And since we want our products to be used wherever you are, we needed to find something new to call our products and ourselves.

The new name that we've found – after a long time of agonizing pain and stupid alternatives – is a name we've quickly come to love just as much as Memoto. It captures what we want to do and is unique in its own simplicity.

It also appears that crowdfunding the Narrative was not a means to an end but just the beginning as the company grows.  They company have simultaneously announced they have secured a funding round in the amount of $3 Million led by San Francisco based True Ventures.  This VC group has been involved in produces lie the Fitbit and Makerbot so they have plenty of experience with hardware type projects.

So expect to see people everywhere sporting their own Narrative.  If you want one too just head over to the Narrative web site today.

Have a crowdfunding offering you'd like to share? Submit an offering for consideration using our Submit a Tip form and we may share it on our site!

Sponsored Links by DQ Promote