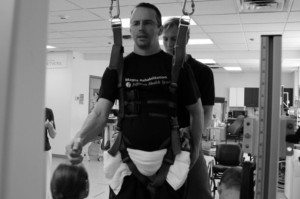 After enjoying a night out with friends in Philadelphia , Christmas week 2011, I hailed a taxi to go home. That was my last recollection before suffering an savage attack where I was left for dead in a city alley. Many facts are unknown but investigators determined that I was most likely struck across the back with a heavy, blunt piece of metal three different times blindly from behind, causing various injuries to my body and spinal cord. Soon after I was found on train tracks with further severe injuries from the fall and damage from the train hitting me. The police investigated but were unable to find the attacker(s) or any other information as to the accident.
This is Steven Quigley's recollection of events that left him literally in the fight of his live. The victim of a brutal and cowardly attack, he would later realize that the attack had left him paralyzed below the shoulders.
Besides the obvious physical and emotional trauma an event like this exacts on an individual, there was another kind of trauma Quigley had to face in the form of mounting medical bills. He says "It is estimated that the cost of the first year's care to treat a Quad spinal injury at one million dollars, $1,000,000. Subsequent years can cost on average $175,000."
Quigley has launched a campaign on GoFundMe seeking $40,000 to aid in his effort to recover his ability to walk. Furthermore, his GoFundMe page has become a sort of inspirational journal of his efforts toward regaining that ability.
There is reason for optimism. Quigley says that since the accident he has recovered 65% of what the accident took from him, and he is working hard on a daily basis to regain some sense of normalcy. One recent event should certainly go a long way in helping Quigley reach his goal: his campaign was recently featured on the website for Philadelphia's NBC affiliate.
Thus far the campaign has raised $12,110 from 120 people, in the form of both online and offline donations.
According to the NBC piece, 50% of Americans would have a hard time coming up with $2,000 in the event of a medical emergency. That research comes via a 2011 study by the National Bureau of Economic Research.
Crowdfunding – and GoFundMe as a platform – has proven to serve an extremely important role for those whose health insurance can't keep up with the reality of health care costs in the United States. We wish Steven the best in his continued fight. To make a donation, visit his GoFundMe campaign page.
Have a crowdfunding offering you'd like to share? Submit an offering for consideration using our Submit a Tip form and we may share it on our site!