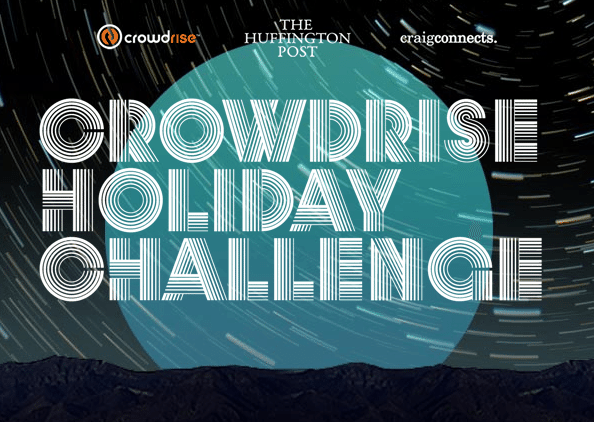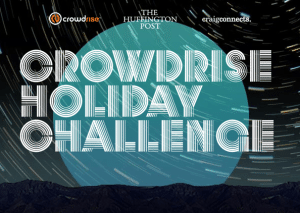 The 3rd Annual Holiday Charity Challenge has been launched by CrowdRise, a crowdfunding platform to help people and organizations raise funds for charitable causes.  CrowdRise has organized the initiative with the support of CraigsList founder, Craig Newmark and The Huffington Post.
The Challenge began on November 18 and continues to January 9, 2014.   The Challenge will have grand prize donations to the three charities to raise the most money during the event; a record $100K for first place, $40K for second place and $20K for third place. Charities will also have the opportunity to win thousands of dollars more in prizes during weekly Bonus Challenges.
During the first 24 hours more than $75K was raised, and stood over $100,000 today, which is the best start to date of any CrowdRise Holiday Challenge.
Multiple well known entertainment industry participants are involved this year including:
 Last year's Challenge crowdsourced $1.1 million in small donations benefiting charities across the country.
This is Craig Newmark's third CrowdRise campaign. His past contributions on CrowdRise have leveraged to raise more than a half million dollars for charities supporting veterans and Hurricane Sandy relief efforts. A number of brands and foundations have used CrowdRise for fundraising Challenges, including the Skoll Foundation, Groupon, Newman's Own Foundation,Martha Stewart and Mozilla. The Challenge model, which is exclusive to CrowdRise, is quickly becoming a favorite of forward-thinking corporations, philanthropists and foundations, for whom crowdfunding is a needed update on the "giant check presentation" standard of institutional philanthropy. Countless charities plan for CrowdRise's recurring Challenges as critical moments in their yearly fundraising cycles.
"CrowdRise is an effective way to help out nonprofit groups, and I'm excited we already have more than 500 charities and counting coming together this holiday season to raise a lot of money for nonprofits getting the job done," said Craig Newmark, founder of craigslist and craigconnects.

"At HuffPost, we're delighted to be a part of the Holiday Charity Challenge, using the HuffPost platform to share stories of giving," said Arianna Huffington, President and Editor-In-Chief of The Huffington Post Media Group. "There's no better time than the holidays to open up the conversation about the unique power of giving to not only improve the lives of others, but to help us bring purpose and meaning to our lives." 

 "Our supreme focus at CrowdRise is to make giving back fun," said CrowdRise cofounder and CEO Robert Wolfe. "And we're relentless about finding awesome and notable ways for people and organizations to be so, so psyched to raise money for their favorite causes. The CrowdRise Holiday Challenge creates 'that moment'…a moment that isn't a dinner or disaster. The CrowdRise Holiday Challenge is just a cool and fun way to rally your friends to engage and give back and drive some kick ass impact."
 

Sponsored Links by DQ Promote