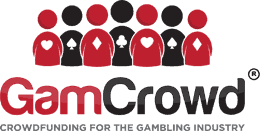 Gambling is a big industry both here in the United States and around the globe. The size of the US online gambling industry alone is expected to balloon to $7.4 billion by 2017. Globally, some reports estimate that the size of the global gambling industry could reach over a half a trillion dollars by 2015.
Where there is an opportunity for ROI, crowdfunding is sure to make an appearance. Enter GamCrowd, aUK-based equity crowdfunding platform for investors interested in opportunities in the gambling industry.
The company was founded by Chris North, who is also founder and CEO of Fox Poker Club. Fox Poker Club was early to the online poker space, and the site obtained a license from the UK government in 2008. By the time the operation sold it had over 20,000 members and a staff of over 20. Fox Poker Club was bought out by Genting Casinos in a multi-million pound deal.
In forming Fox Poker Club, North was forced to seek investment from his "crowd" after being turned down by the venture capital and angel investment communities. "The last start up I did struggled to register any interest from VCs and so I went back to my own crowd," says North. "I didn't know it was called crowdfunding at the time, but that is exactly what we did and it was a spectacular success."

GamCrowd is backed by many of the investors that were successful with Fox Poker Club. The crowdfunding platform will go live at the end of January, when it will start recruiting its "crowd" – potential investors, start-ups looking for funds and industry professionals. The "crowd" can get involved by investing either with cash or sweat equity, freelance crowdsourcing or crowd voting and are being asked to register. "Once we have a sufficient base of investors, start-ups and a crowd, we will begin putting people in touch with each other and allow investments to happen" Chris explains. Before any investment takes place, GamCrowd will be registered with the Financial Conduct Authority which has recently issued a detailed consultation document on the nascent crowdfunding industry in the UK.