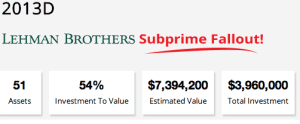 Lehman Brothers used to be one of the largest, most successful investment banks in the country.  At the beginning of the financial crises Lehman collapsed as the strain of subprime loans tanked in value.  Lehman filed for bankruptcy in 2008 and remains in the courts today.
American Homeowner Preservation (AHP) is a company that facilitates investments in high yield distressed mortgage based assets.  These investments may positively impact families and communities is now crowdfunding a group of subprime mortgages from Lehman.  AHP has flexibility in crafting  the terms which are affordable for families, yet generate attractive returns for investors.They are looking to acquire the 2013D offering which consists of assets valued at $7,394,200 for $3,960,00 representing a 54% investment to value ratio.  Expected returns for the accredited investors will be 9 t0 12% on terms of 1 – 5 years.

The 51 assets featured in the 2013D are located nationwide, with the highest concentration in Brooklyn, New York and the top states being New York, Illinois and Florida. Loans will be titled in American Homeowner Preservation Trust, with U.S. Bank as trustee, G&S Fund Services as fund administrator and Orion Financial Group as document custodian. AHP investors own interests in the LLC which is the beneficial owner of the Trust. The minimum investment is $10,000 and revenue is distributed monthly to investors, which earn returns of 9% for a 1-year term, 10.2% for  2-years and 12% for 5-years.
Chicago based American Homeowner Preservation started in 2008 as a 501(c)3 nonprofit before transitioning to for profit,  evolving into a socially responsible hedge fund which delivered returns to investors of greater than 14% in 2012 and 2013. However, the 80/20 fee structure typical of hedge funds was not sufficient to fund AHP's management-intensive workout approach. Thus, AHP recently added the crowdfunding component with predetermined – and attractive – yields to investors.
Have a crowdfunding offering you'd like to share? Submit an offering for consideration using our Submit a Tip form and we may share it on our site!