The implementation of an exemption under Rule 506(c) of Regulation D in September of 2013 creates a new set of opportunities for private issuers looking to raise capital. It also creates a new set of challenges, specifically a need for issuers (and, by proxy, the intermediaries facilitating these raises) to certify that all participants are accredited investors.
Rule 506(c) includes a list of "reasonable steps" issuers can take to verify that investors meet the standards of an accredited investor. (A full list of accredited investor standards are available on our web site.) A handful of companies have emerged hoping to encapsulate these steps and streamline the process of investor accreditation for Rule 506(c). One of these companies is Crowdentials.

Based in Cleveland, Ohio, Crowdentials takes a low-friction approach to investor accreditation. Crowdentials chooses to avoid making use of some safe harbors deemed too onerous, namely steps like verification of income via IRS documentation from the last two years or verification of net worth via bank & brokerage statements.
Instead, Crowdentials leans particularly hard on the third category of "reasonable steps" – documentation from a registered broker-dealer, investment advisor or tax professional. With this approach, investors need not divulge what they made last year or what they're worth as individuals.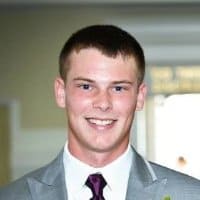 "This is going to prevail over other more intrusive methods due to that fact that investors are not willing to give up their tax records, and companies are not willing to part with their investors over such a small thing," Crowdentials CEO Richard Rodman told Crowdfund Insider. "We hear from investors every day that they will not give any company their tax records when there is a solution such as ours on the market, and rightfully so. Think about it, is demanding tax records and proof of funds a good way to start off asking for money? Investors love our product and in return so do companies."
Rodman went on to explain the process of developing his company's approach to investor accreditation.
"We have had some of the top securities attorneys in the country advise us as well as notable investors, entrepreneurs, industry professionals, accountants, investment advisors, and brokers," he said. "We have surrounded ourselves with every type of professional in order to provide the best possible product to our customers. We are always reiterating on our product and improving the overall functionality for all parties. Our advisors individually have brought decades beyond decades of industry experience and know how to the team and our product."
The product provides an elegant front-end interface that mirrors the process of exchanging documents to verify accredited status. (An example is embedded at the bottom of the page.) As paperwork is shuffled from investor to issuer, Crowdentials keeps an audit trail of activity and ensures that no steps are missed or skipped. This helps issuers stay on the correct side of SEC regulations.
Rodman points out that Crowdentials has flexibility built-in; he says that the company's services are encapsulated in a flexible API, and his team is ready and willing to be flexible to provide platforms with solutions that fit their business models and goals. "At Crowdentials, we have truly created a team and product that is far superior to anyone in the market, and our customers know it," he said.
Crowdentials netted an early-stage investment from FlashStarts, a Cleveland-based startup accelerator founded and managed by Internet pioneer Charles Stack. The image below is an example of their interface. (And loaded with dummy data for obvious reasons.) Click for a full view…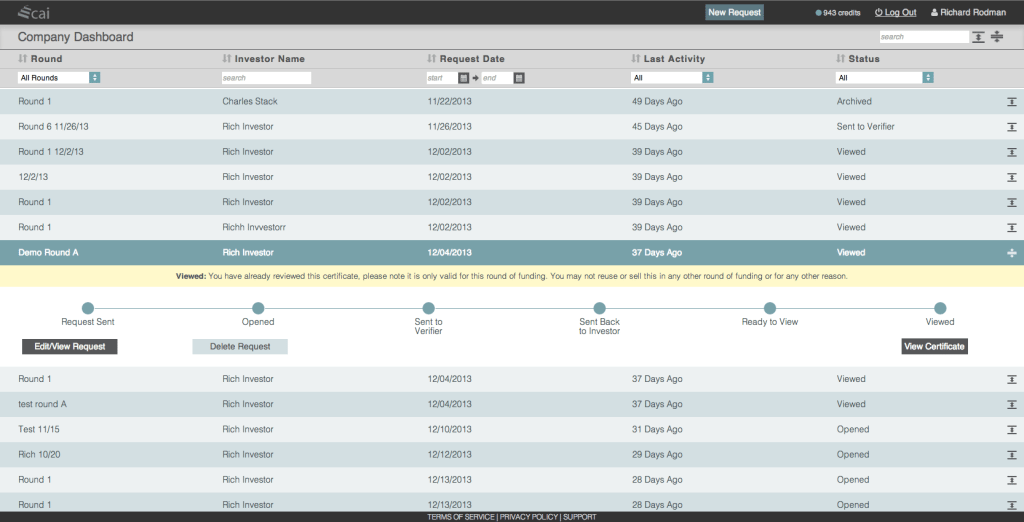 Sponsored Links by DQ Promote