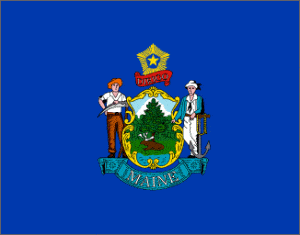 The State of Maine is the latest state to net a proposal to legalize intrastate crowdfunding. SP 568 and an amendment, LD 1512 (embedded), was proposed by Senator and Maine Senate President Justin Alfond (D-Portland) in the hopes of increasing access to capital for Maine businesses. There is an underlying focus on Maine's startups, hence the designation "Maine Seed Capital Exemption."
We urge Maine lawmakers to pass the legislation that comes before them. In a state dominated by small businesses that often struggle to grow into engines of job creation, a crowdfunding tool that allows entrepreneurs to appeal to small-time investors for capital in exchange for equity offers those entrepreneurs an accessible avenue for growth.Editorial, Bangor Daily News
Some quick bullet points on this proposal…
Yearly caps for issuers were higher until this latest amendment  – $1 million without audits, $2 million with audits per 12 months. That was the original bill, and it would have continued a trend of state-level exemptions being kinder to issuers than the proposed federal regulations. However, the latest amendment changes thresholds to directly match the federal exemption, including the requirement of certified financials if the issuer is raising over $100,000 in a given 12-month period.
Caps for issuers and investors are required to be revisited and are tied to CPI – As the value of a dollar changes according to the Bureau of Labor Statistics's Consumer Price Index, so would the caps for issuers and investors under the exemption. Caps would be revisited every five years starting in 2018.
Issuers can crowdfund before they file – Somewhat interesting… a notification of the offering to the state is required "before the use of any general solicitation or the 25th sale of the security." The amendment at the bottom of the article outlines what that registration would look like. I can't see anything in the amendment that suggests the directive in the original bill changes, either.
It was proposed by a Democrat – This is notable since other recent intrastate exemptions (Michigan, Wisconsin) were largely Republican-led efforts. This despite the fact that intrastate crowdfunding exemptions have traditionally enjoyed bipartisan support.
Functionally, without an increase in thresholds and/or relief from audited financials, the Maine exemption is at risk of falling flat in its ability to improve access to capital. Those changes were present in the original bill and effectively removed in the latest amendment.

What is the benefit of the bill? If a Maine business wants to fundraise without the use of an online intermediary, this bill would allow for that, and at the cost of the ability to garner investment from any resident of the other 49 states. Other than that, it simply rehashes proposed federal rules.

Maine SP 568, a proposed intrastate crowdfunding exemption in the State of Maine.

Proposed amendment to S.P. 568, an intrastate crowdfunding exemption for the State of Maine

Sponsored Links by DQ Promote