After numerous attempts , we've been ignored by her own father who is well aware of our need for monetary support. She is only 2, and our tries have been ignored. She has been completely deserted by her other parent, who she does not even know. She did not have a Christmas as we were unable to afford one. It's come down to us selling the only means of transportation that we have, and now unable to afford diapers, child care, clothing and every other basic need a very intelligent and well loved toddler needs. Please help in any way you can as this is truly an emergency. at this point in time we are even unable to afford legal representation to amend this situation…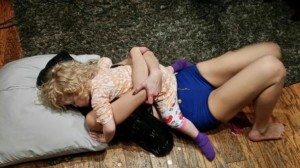 The situation presented in a crowdfunding campaign currently live on GiveForward is heart-wrenching, but there may be even more to the story than there seems on the surface. The situation was laid out in great detail in a recent post on Valleywag, Gawker's Silicon Valley gossip blog.
To summarize, the woman in the campaign – Jessica Wigsmoen – is apparently the mother of Shawn Fanning's child. Shawn Fanning is one of the co-founders of Napster. He is famous for (among other things) presenting at the MTV Video Music Awards wearing a Metallica shirt. (If the irony of a Napster co-founder wearing that shirt at that event is lost on you, I'm sorry.)
Wigsmoen claims that Fanning is the father of her child, a claim that could only be corroborated by Valleywag through a series of social media posts that leave little doubt as to the validity of that claim. One picture showed Fanning kissing Wigsmoen holding a baby in a hospital bed, for example.
The core question of the entire situation: is Shawn Fanning, a very notable founder in the Valley, shunting his duty to pay child support? There are other allegations levied by Wigsmoen in the piece, including alleged drug use. Fanning couldn't be contacted for the article.
The GiveForward campaign is seeking $100,000 in support and has raised just $350 at the time of writing with 77 days to go.
Have a crowdfunding offering you'd like to share? Submit an offering for consideration using our Submit a Tip form and we may share it on our site!