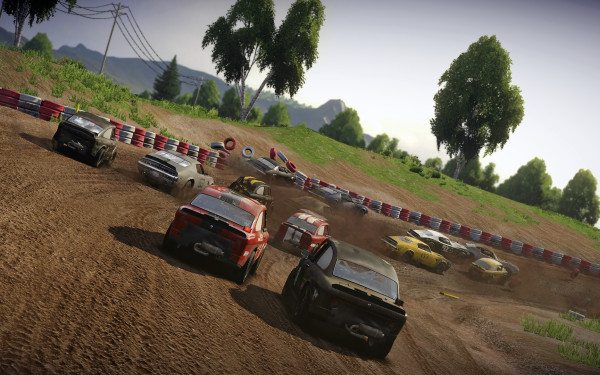 In late 2013, Helsinki-based video game studio Bugbear launched a Kickstarter campaign for their upcoming title, the ambiguously-named Next Car Game. The campaign sought $350,000 in funding, but it became clear shortly after launch that the stated funding goal was going to be a reach. The project was cancelled having raised just over $80,000.

However, that wasn't the end of Bugbear's foray into the crowdfunding landscape. With a playable demo, the game had the moving parts necessary for a campaign on Steam Early Access. Steam Early Access is essentially a crowdfunding platform embedded in the increasingly-popular Steam platform, a video game meritocracy and marketplace owned and operated by Valve Software. It very well could become the de facto way to crowdfund a video game – if it hasn't already. Steam has a user base of 75 million and counting.
So how did the move work out for Bugbear? In a recent blog post, the studio shared the revelation that Next Car Game had cleared a $1 million funding goal on Steam in just a week.
It was the first time we were going to show the game to everyone, and we were very anxious to hear the feedback, but the game took the Internet by storm: the first Early Access release doubled the sales of the title during the Christmas week! Last autumn, we had a stretch of bad luck with our Kickstarter campaign, and it didn't reach the goal we were aiming for. Even so, we didn't lose our faith in the game and wanted to get it in the hands of the players as soon as possible. And thanks to our great supporters, we really couldn't have asked for a better Christmas present – much to our surprise, we reached and actually topped our original campaign funding goal in just week! Not only that, but the free demo we released a couple of days later has been downloaded over 50,000 times, and the gameplay video posted on the popular Nerd³ Youtube channel has already nearly 500,000 views.
Gamespot recently ran an exclusive article explaining the merits of PC gaming. In short, it is no secret that computers can be specced up to meet or surpass popular off-the-shelf gaming consoles like the Xbox One and Playstation 4. They're certainly competitive with older generations of consoles, and PCs can be upgraded to keep with the times without rendering much of the existing hardware useless. PC games were once thought to be dead. Now they're making a huge comeback, and Steam – and, by proxy, crowdfunding – is at the center of the movement.

Why is this good for crowdfunding? The burden of proof is high on Steam. Playable demos decrease risk of outright failure by forcing developers to show some level of progress and competency before seeking funding. Ideation isn't good enough here. Steam Greenlight acts as Steam's in-house voting system. Ideas are supported with yay votes rather than crowdfunding dollars, allowing developers to market test their games without risking squandering the crowd's funds. Once they know they have buy-in, they can develop a playable demo and go seek funding from the crowd.

Consider that only a third of Kickstarter-funded video games fully deliver.

I cannot overstate enough that this is a huge movement in crowdfunding and the democratization of game development. It's increasingly looking like this could be the most important crowdfunding trend to watch in 2014.

Have a crowdfunding offering you'd like to share? Submit an offering for consideration using our Submit a Tip form and we may share it on our site!

Sponsored Links by DQ Promote