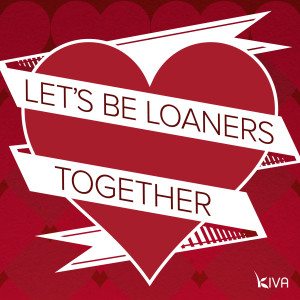 Kiva is a pretty cool site.  The entire concept of micro-finance and getting funds straight into the hands of the people who are going to put it to work has totally altered the world of foreign aid.  What's even cooler about Kiva is the fact it is a private, non-profit organization.  Foreign aid around the world is a realm full of politics, driven by expediency, with a process that too frequently means the aid (or money) ends up in the hands of those who really do not need it at all.
Kiva, in their own way, is fixing this.  They have been around for awhile too.  Kiva was crowdfunding before crowdfunding was cool.  Launched back in 2005 their first seven loans totaled $3500.  Well today that number stands at over a half a billion in loans – all with a 98.96% repayment rate.  Kiva is operating in 73 different countries with 240 field partners arranging these loans.  What's even more incredible is that every dollar you lend on Kiva – 100% goes directly to funding loans.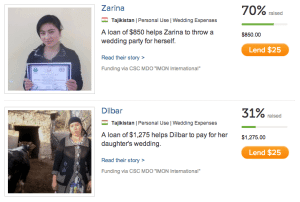 It was recently pointed out to us that loans are given to those who need money to pay for weddings.  Something that many people in developed countries take for granted but in parts of the world that are not as affluent – this is an expensive obligation.
So take a minute and consider lending as little as $25 to help pay for a daughter's wedding dress in Tajikistan or perhaps helping a father to pay for a son's wedding party in Armenia.  And you will get all of your money back or maybe you will decide to loan it again.
Happy Valentine's Day.
Have a crowdfunding offering you'd like to share? Submit an offering for consideration using our Submit a Tip form and we may share it on our site!