DonorsChoose is quickly gaining steam in the crowdfunding space. FastCompany just named DonorsChoose to their list of the most innovative companies in 2014, and it wasn't buried toward the bottom either. It made the top ten alongside the likes of Google and Nike.
Now Huffington Post founder Arianna Huffington is offering free cash to be donated on DonorsChoose for those pre-ordering her new book. Anyone pre-ordering the book before March 25th will receive a $26 gift card to DonorsChoose, an amount equal to the list price of the book.
I love that by working with Charles and DonorsChoose, we're building one of the book's key themes — how compassion and giving transform our lives — into the actual release of the book. From the beginning, my goal while writing Thrive was to use my own journey — including a painful wakeup call that led me to change my own life — as a springboard for a wider discussion about our society's flawed definition of success, and the ways we need to redefine it. I wanted the book to begin with my story, but I don't want it to end there.Arianna Huffington, Huffington Post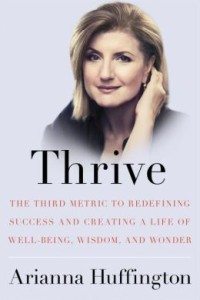 Huffington's new book is called Thrive, and she says it will be "filled with tools and practical advice to help readers redefine success and live lives that are more fulfilling and more sustainable." This aim obviously aligns well with DonorsChoose's mission to connect classrooms and teachers with those willing to fund better learning environments for children.
She nods to a handful of projects currently funding on DonorsChoose as examples of the platform's power to do good in the world, including a bid by an Ohio teacher to fund exercise and yoga videos for behaviorally challenged students and a campaign to bring pets and animals into the classroom for a day to promote proper pet care in North Carolina.
DonorsChoose has raised over $225 million from their network of over one million donors, funding over 400,000 classroom projects.