Crowdfunding Program Helps Alleviate the Cost of Fertility Treatments.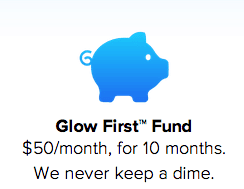 Glow, a data science company that focuses on women's reproductive health and education, is launching Glow for Enterprise – a program looking to redefine the standard for employee health benefits.
In competitive hiring markets, companies are continually in search of the newest and most compelling benefits. Glow for Enterprise is a new benefit for employees to gain both access to personalized knowledge around their reproductive health as well as a 100% covered membership into Glow First, Glow's not-for-profit crowdfunding program that helps alleviate the cost of fertility treatments. Companies that participate in Glow for Enterprise will enable fully covered access to Glow First ($50 each month for 10 months), with $0 out-of-pocket cost for the employee. It is completely confidential to participate and is available for both female and male employees.

Eventbrite and Evernote – two of the industry's most progressive and relevant companies – are the first to partner with Glow for Enterprise to empower employees and build the future of healthcare. The detailed rollout of Glow for Enterprise will be coming soon for these first partners.
"Evernote benefits are designed to offer employees peace of mind. Health and well-being play a significant role in this," said Alice Harmon, VP of human resources for Evernote. "With Glow, we're excited to be able to offer a unique and differentiating benefit that has the potential to very positively impact the lives of our employees and their families."

"At Eventbrite, we're always looking for innovative new ways to offer health and wellness benefits to our Britelings (employees)," said Emily Couey, head of people and experiences at Eventbrite. "Glow for Enterprise allows us to offer a progressive health benefit typically not offered by traditional insurance."
Many U.S. companies are being forced to pass down the rising healthcare costs to employees, while the healthcare system remains broken. Infertility continues to be acutely underserved and fertility treatments are still considered elective. In the U.S., the cost of a single assisted reproductive technology cycle can consume up to 50 percent of an individual's annual disposable income, and that cost can be crippling. Glow aims to change that by partnering with companies to extend Glow First coverage to their employees, advancing the standard for health benefits as we know them.
"We think there is so much more to learn about our health and our bodies. Both women and men spend much of their lives trying to avoid pregnancy, but then when they're ready to start a family, information and resources are scarce. This is why Glow is thrilled to be partnering with companies to extend fertility benefits to women and couples looking to conceive," said Mike Huang, CEO and co-founder of Glow.
Founded in 2013, Glow was created by Max Levchin, formerly of PayPal, as well as Mike Huang, co-founder, CEO; Chris Martinez, co-founder, business & strategy; Kevin Ho, co-founder, product; Ryan Ye, co-founder, technology, and is a data science company redesigning healthcare.

Sponsored Links by DQ Promote