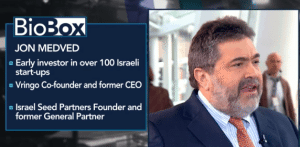 Jon Medved, CEO of equity crowdfunding platform OurCrowd, spent some time on Bloomberg this morning addressing multiple topics – and not just the world of crowdfunding. Medved was a guest on the morning feature "In The Loop" along with host Betty Liu and Corey Johnson, Bloomberg West Editor at Large.
In three separate segments (as divided up by Bloomberg) Medved addresses the following topics:
Driverless Cars
Investing in Regions of Conflict (where he touted the Israeli economy)
Funding the Next Big Tech Startup
Medved has become a regular visitor on Bloomberg of late which has created a unique opportunity to earn some media for his fast growing crowdfunding platform. Medved does share they accept only 2% of the companies that apply to list on his site and gives a shout out to BioCatch – a company raising equity on OurCrowd now.
You may view the video segments posted below.
______________________________________
______________________________________
______________________________________