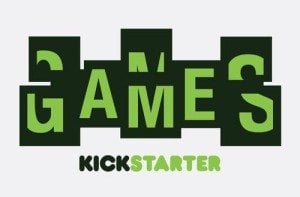 In 2004, the Penny Arcade people thought it would be pretty cool to do a  show exclusively for gaming. Their event was a "small" 4500 gathering in Bellevue, Washington, that not only focused on gaming but also culture, music and a ton of other awesomeness.
Since that date the event has doubled every year until it outgrew their venues.   In 2010 they expanded with PAX East and of course gathered up tens of thousands of attendees.  The shows  in Boston and now Seattle are the two largest gaming events in North America.  So it pretty much makes a lot of sense for crowdfunding leader Kickstarter to show up and talk game funding.  Especially since games is their number on money generating category on their platform.
This coming April 11 through 13, team Kickstarter will have an entire room devoted to games that were funded through Kickstarter: virtual reality games, card games, tabletop games, RPGs, FPSs, 3D games, 16-bit games and more.
Kickstarter will also be participating in panels, hosting one on April 12th in the Condor Theater where they will talk about what you can do after your game has been successfully funded. What's it like to develop your game with all your backers watching and much more
Kickstarter will be setting up a bunch of crowdfunded games you can try out yourself, they have published a list which is posted below:
Who made it: David Laskey
Platforms: PC, Mac, Linux
What it's about: Destroy alien robo-bug invaders by shooting your own life force energy out of your arm. There's probably a lesson about personal responsibility in here somewhere.
Who made it: Gamesbymo
Platforms: PC, Mac, Linux, Steam
What it's about: Save A.N.N.E. the robot from imminent disposal as you make your way through a colorful world full of dangerous enemies that you can avoid and deal with later if you're not up for fighting them at that exact moment.
Who made it: Flippfly
Platforms: PC, Mac
What it's about: Get as far as you can before sunset, as you careen through an endlessly customizable landscape in your solar powered aircraft.
Who made it: Matt Gilgenbach
Platforms: PC, Mac, Linux, Ouya
What it's about: Ever looked at an Edward Gorey illustration and thought, "Man, I wish that was a playable video game that deals with psychological horror and mental illness?" Here's that game.
Who made it: Paleozoic
Platforms: PC, Mac, Linux, Steam
What it's about: Lush pixel art transforms Greek myth into a colorful quest through the underworld to Mount Olympus.
Who made it: Sunken Places
Platforms: Windows, Mac, Linux, Oculus
What it's about: Cheat without the guilt of real cheating! Be a dolphin … without the guilt of being a real dolphin! Classroom Aquatic requires you, a dolphin, to cheat your way through a semester of underwater school you're not even remotely prepared for.
Who made it: Samantha Kalman
Platforms: Mac, PC, Linux
What it's about: Drop musical building blocks into a rotating circle to create unique patterns. Accidentally make a pop song or get really weird. All options are good.
Who made it: Shawn Alexander Allen
Platforms: PC, Mac
What it's about: Think a more complex Streets of Rage minus that thing where entire turkeys on silver plates appear out of nowhere and plus a deep battle system and fleshed-out characters.
Who made it: Max Temkin
Platforms: a table
What it's about: The "party game for horrible people" allows you to craft offensive sentences for maximum laughs (or cringe-worthy moments) in big group settings.
Who made it: Shawn Pierre
Platforms: A table
What it's about: What happens when you confuse a french fry for a hat? What about a hat for a hot dog? What about a french fry for a hot dog? This party card game is all about lying to tell the truth. Convince your gullible friends that your card is something different than what it is.
Who made it: James Campbell
Platforms: a table
What it's about: Choose from 12 drag queen characters and develop your skills in three distinct categories in an attempt to win the crown at the drag ball.
Who made it: Andrew Valkauskas
Platforms: a table
What it's about: Combining the game-play of poker with the more layered style of collectible card games, Fate of the Norns is a lushly illustrated, easy-to-learn card game with expansion packs that add depth and new levels as you get more familiar.
Platforms: a table
What it's about: Kombat Kittens is a card game that asks players to build a powerful team from a roster of samurai kittens, mech kittens, medieval kittens … we could go on. Basically, you want the most powerful hand. There are sometimes dog cards too.
Related articles across the web
Sponsored Links by DQ Promote