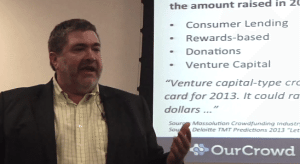 OurCrowd founder and CEO Jon Medved spoke at San Diego State University earlier this year.  This falls under the recently discovered category as it was just posted on YouTube the past week.
Medved actually was born in San Diego.  His father was a professor of physics at SDSU so this was a bit of a coming home  trip for him.
Medved talks about OurCrowd and his global perspective on equity crowdfunding.  Definitely worth a watch.
______________________