While entrepreneurs all over the world continue to use crowdfunding as a source to raise funds, the use of it in China has drawn some concerns. While it is known as the "online investment phenomenon" fundraising option has grown so quickly, that it is starting to raise public interests and also suspicions.
Liu Zhangjun, director-general of the Inter-agency Anti-illegal Fund-raising Taskforce, revealed crowdfunding potentially poses relatively large legal risks and should be regulated. He also warned about the risk of default risks from online credit platforms, some of which behave like Ponzi schemes, using new contributions to repay old debt.
Although he acknowledged that crowdfunding does help to "advance financial innovation and the market mechanism," Mr. Zhangjun also stated during a press briefing that such innovation is supported and encouraged by the government, but it should not "cross the red line" into illegal activities.
He noted, "The fledgling sector faced higher 'legal risks' as it is currently not controlled by legislation, its barriers to entry are low and it relies on self-policing. [Crowdfunding] has the special characteristics of raising funds from the public, and therefore should be governed by current laws and regulations."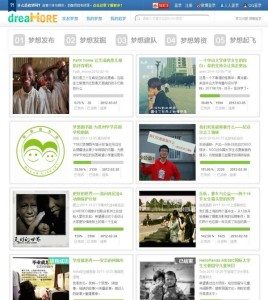 Unlike the U.S., China's crowdfunding networks have yet to be regulated, despite popular Chinese crowdfunding platforms like Dreamore, which debuted in 2011. Dreamore has so far raised over 6 million yuan for over 300 projects.
Venture capital fund consultant Li Yingying said, "China has the biggest online population – about 600 million – in the world and its netizens are eager to find new channels of investments as alternatives to be overheated property market and volatile stock market."
While crowdfunding has both success and ultimately risks, some still worry over the blurry lines between informal banking channels and crowdfunding. Mr. Zhangjun reminds the public that authorities are taking steps to tighten regulations for online financing. The China Banking Regulatory Commission has been leading a push  to draft more specific rules to regulate the activities of so-called, peer-to-peer platforms, where borrowers and lenders are matched online.