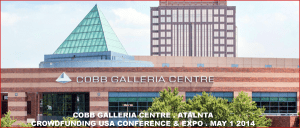 The Crowdfunding USA Conference & Expo opens up today (May 1, 2014) at the Cobb Galleria Centre in Atlanta.  The event will provide participants with the opportunity to discuss the current state of the booming $5.1 billion crowdfunding industry. Experts from venture capital, business angels and various leaders in the crowdfunding industry with gather to learn, network and find new partnerships.
Speakers include Georgia Secretary of State Brian P. Kemp and crowdfunding expert Kendall Almerico. Almerico will present "Crowdfunding in Georgia: What's Gone Right and What's Gone Wrong" at the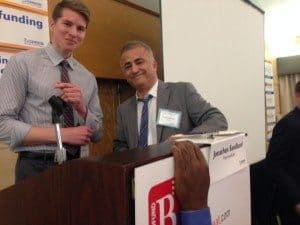 conference.
"I am excited to bring great speakers and panelists to Atlanta to help educate people about the fascinating world of crowdfunding," Crowdfunding USA found Sydney Armani said. "Crowdfunding is changing the way businesses start and grow, and everyone needs to learn and be a part of this phenomenon."
Other notable industry speakers and panelists include:
Dr. Richard Swart, Crowdfund Capital Advisors
Jilliene Helman, CEO of Realty Mogul
Brian Dalley, Founder of GroundFloor

The two day gathering is the inaugural conference for a planned series of conferences both in the United States and abroad.