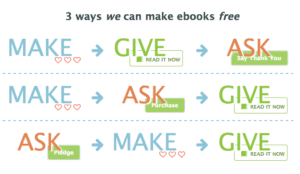 Unglue.it's "Thanks for Ungluing" was recently announced by the noted ebook crowdfunding platform. Unglue.it is self described as "the bookstore for books that want to be free" that rewards rights holders for making their ebooks available to the world under a creative commons license.
Unglue.it now offers three types of crowdfunding campaigns to help authors make ebooks free.  Unglue.it aims to compile a comprehensive database of Creative Commons licensed books while offering authors and publishers new ways to make ends

meet.
"Great books deserve to be read by all of us, and we ought to be supporting the people who create these books. 'Thanks for Ungluing' gives readers, authors, libraries and publishers a new way to build, sustain, and nourish the books we love." said Eric Hellman, Founder of Unglue.it. "We're thrilled to be working the amazing creators participating in this launch".
Thanks-for-Ungluing lets readers say "thank you" for free ebooks. The program is designed to help rights holders promote and benefit from their Creative Commons licensed ebooks. Creators participating in the Thanks-for-Ungluing program request payment for ebooks on a pay-what-you-want basis. They set suggested prices as well as metadata and descriptions for their books.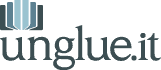 John Sundman's "Acts of the Apostles" was the second book ever to have a creative Commons license (The first was Cory Doctorow's "Down and Out in the Magic Kingdom".) This book, together with the other two books in the "Mind Over Matter" series, "Cheap Complex Devices" and "The Pains" will be available for free download from Unglue.it.
Sundman's half-new novel "Biodigital" will be available exclusively through Unglue.it's "Buy-to-Unglue" program and will earn its way to a Creative Commons license based on support from readers. Substantially based on his 1999 underground hit Acts of the Apostles, a novel about a Silicon Valley messiah, his cult following of brain hackers, and the convergence of biological and digital technologies, Biodigital reimagines this tale in light of new science. 
John Sundman said, "I'm proud to support Creative Commons and I'm happy that my books have been read by thousands of people because of it. But of course I have bills to pay too, so I'm excited by Unglue.it's approach, which allows me to place my works in the commons while also giving readers an easy way help me out if they can."
Open Book Publishers of Cambridge, England, is offering 2 titles from their list of academic titles in "Thanks for Unglueing". The first is "The Digital Public Domain: Foundations for an Open Culture", which brings together academics, librarians, entrepreneurs, activists and policy makers to address the apparent paradox whereby digital technology has made culture more accessible than ever before, while the norms regulating culture's use – copyright and related rights – have become increasingly restrictive. Arguing that the Public Domain is fundamental to a healthy society, this book opens up discussion and offers practical solutions to the difficult question of the regulation of culture in the digital age.
OBP's second title, "The Classic Short Story, 1870-1925: Theory of a Genre", is the only study to focus exclusively on the heyday of short story writing – the late nineteenth and early twentieth centuries – across French, English, Italian, Russian and Japanese writing. Focusing particularly on the stories of Guy de Maupassant, Henry James, Giovanni Verga, Anton Chekhov and Akutagawa Ryūnosuke, Florence Goyet shows that these authors were able to create brilliant and successful short stories using the very simple 'tools of brevity' of their period. Demonstrating that, despite the apparent intention of these stories to question bourgeois ideals, they mostly affirmed the prejudices of the readers, this book forces us to rethink our preconceptions about this 'forgotten' genre.
Founded in 2008 by academics in Cambridge and London, Open Book Publishers is a non-profit, Open Access publisher, committed to making high-quality research freely available to readers around the world. As well as being published in ebook, paperback and hardback editions, all our books include a free online edition that can be read via our website, downloaded, reused or embedded anywhere. These free online editions are currently being accessed by thousands of readers each month in over 140 countries around the world.