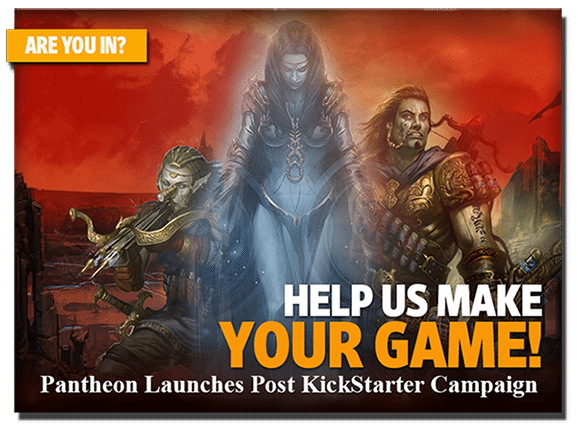 His "Pantheon: Rise of the Fallen" may have had a second shot at success following its failed crowdfunding campaign on Kickstarter, but it seems things are not well for lead developer Brad McQuaid. Questions are now being raised about how the $148k he received during his second campaign is being used.
According to information from the ReRolled forums, Reddit and SegmentNext, Mr. McQuaid allegedly took a substantial portion of the $148k as a "three month salary advance." A since-removed post on the "Pantheon: Rise of Fallen" Facebook page, suggests this figure was around $45k, 33% of the total raised for the supposed funding.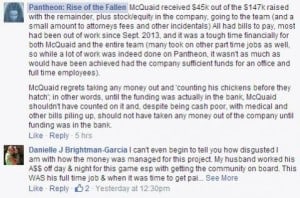 The message stated, "McQuaid received $45k out of the $147k raised with the remainder, plus stock/equity in the company, going to the team (and a small amount to attorney fees and other incidentals). All had bills to pay, most had been out of work since Sept. 2013, and it was a tough time financially for both McQuaid and the entire team (many took on other part time jobs as well, so while a lot of work was indeed done on 'Pantheon,' it wasn't as much as would have been achieved had the company sufficient funds for an office and full time employees."

"McQuaid regrets taking any money and 'counting his chickens before they hatch;' in other words, until the funding was actually in the bank, McQuaid shouldn't have counted on it and, despite being cash poor, with medical and other bills piling, should have not taken any money out of the company until funding was in the bank."
Although deleted, the same Facebook posting had a reply from the wife of now departed developed on the "Pantheon: Rise of the Fallen project Tony Garcia, in which she revealed, "I can't even begin to tell you how disgusted I am with how the money was managed for this project."
ReRolled user Frenzic noted he has interview with Mr. McQuaid on two occusions and was informed "roughly 38% of the funds that were left" of the $148k went towards Mr. McQuaid's "advance salary."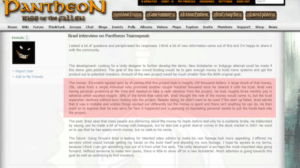 Frenzic wrote, "The money- It's widely agreed upon by all parties that this projecttook in roughly $145k. A large chunk of that money, 35k, came from a single invivdiual who promised another couple hundred thousand once he cleared with his trust. Brad was having personal problems at the time and needed to take a cash advance from the project. He took roughly three months pay in advance which equaled roughly 38% of the funds that were left. Brad thought the rest of the money would come in, but the trust supervisor declined without even looking into the project. Reason being, he didn't want to be sued if the start up failed."

"Brad admits that it was a mistake and wishes things worked out differently but the money is spent and there isn't anything he can do. He then went on to express that he was sorry for how it happened and is planning on liquidating personal assets to put the funds back into the project."
The ReRolled user also noted that Mr. McQuaid is looking for talented video editors to make his raw footage more appealing. Frenzic offered his services, which would include getting his hand on the build itself and shooting his own footage.
Have a crowdfunding offering you'd like to share? Submit an offering for consideration using our Submit a Tip form and we may share it on our site!