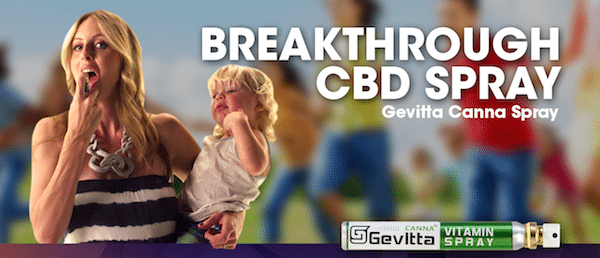 Cutting edge vitamin and supplement company Gevitta announced it has launched a crowdfunding campaign on Indiegogo for its Canna Vitamin Spray. The product is known as the first of its kind and contains legal CBDs (cannabinoid).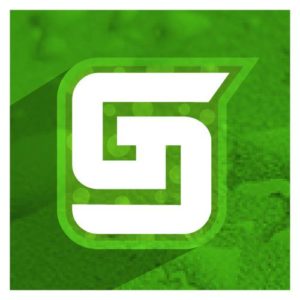 According to its campaign site, Gevitta's Canna Vitamin spray has a naturally occurring cannabinoid component found in cannabis that comprises up to 40% of the industrial hemp plant. The CBDs in the spray are derived from CBD-rich hemp oil that is emulsified into a sprayable liquid and is packaged in an optimal delivery system
Since it is derived from hemp, not the marijuana plant, the company is able to legally ship the vitamin spray world, making the supplement available to those who were previously unable to purchase CBD products.  Apparently there are only trace levels of THC found in the plants they use for their spray.
Founder of Gevitta Trevor Fisher stated, "Unlike traditional product launches that are sales focused, our goal on Indiegogo is really to raise money to optimtize our CBD formula, lower manufacturing costs, and advance research on how CBDs helps diseases like epilepsy."
During the 45-day campaign, Gevitta is aiming to raise $47,500 in order to not only provide backers with CBD sprays and improve product quality, but also to facilitate the donation of 1,000 CBD sprays to an epilepsy study in hopes of discovering the true potential of CBSDs as a treatment method. For every two sprays sold during the campaign, the company will be donating one spray to the epilepsy foundation.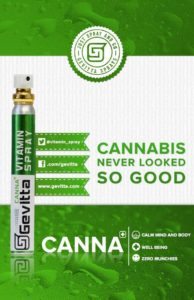 Although the company makes no claims about Canna Vitamin Spray's ability to treat diseases, research suggests that CBDs may have positive effects in people with life alternating illnesses such as epilepsy, Crohn's disease and diabetes.

Gevitta is a vitamin and supplement company that delivers high quality, pharmaceutical-grade nutrition products comprised of natural ingredients. Using documented research, Gevitta develops products that provide valuable support for important functions such as sleep and energy needs. The company is also a leader in the manufacturing and distribution of hemp-derived CBD oil spray and hosts the Gevitta for Kids fund that focuses on raising for children's epilepsy research.

In addition to the Canna Vitamin Spray, Gevitta is also in the process of launching five additional vitamin spray varieties – Awake (energy), Burn (weight loss), Dream (sleep enhancing), Glow (Vitamin D), and Multi (multivitamin).

If it successfully achieves the funding goal, Gevitta will send 1,000 Canna Vitamin Sprays to the CURE Epilepsy Foundation for testing and make it available to the people who really need the groundbreaking technology.

Sponsored Links by DQ Promote