YouAnonNews (YAN), a news collective site that is associated  with the Anonymous movement, ran a crowdfunding campaign on Indiegogo last year raising funds to launch their site.
To quote the campaign;  "Our goal as YAN contributors will be to take what we have learned over the past few years and create a new environment were content is not determined solely by external sources. We will engineer a new website which will allow us to collect breaking reports and blog postings from the best independent reporters online. We'll provide feeds for citizen journalists who livestream events as they are taking place, instead of the 10-second sound bites provided by the corporate media…"
While the objectives of the project certainly have merit it appears now that something went amiss as the original campaign page on Indiegogo has now gone dark and a post on the YourAnonNews site claims they have been a victim of fraud stating that of the $54,000 raised $35,000 has gone missing.
A posting on the site states:
So, the story goes…
In March 2013, one of the many contributors to this account launched an Indiegogo campaign. His idea was to raise funds to create a website that would support citizen journalism, activists, and every man, woman, and child currently suffering under the boot of an oppressive regime. It wasn't a terrible thought. We all wanted to expand our voice, to be louder, to instill the virtue of dissent in those whose spirit had been broken.
In the spirit of Mohamed Bouazizi, the man who launched a thousand protests with his final agonizing breath, we stepped forward to raise awareness of the many injustices in this world.
Unbeknownst to our collective, the contributor who launched this fundraiser had become a fraud. A basic criminal. Upon receiving the sum of those contributions, he mishandled them in the most egregious way. Of the $54,000 he raised, some $35,000 went missing that we know of. There's no way for us to know where it went, or what he ultimately decided to do with it. He has refused to cooperate and tell us the truth. We feel he should be held accountable for his actions or tossed aside—hell, if we had our way, he'd be fed to the dogs.
We're disgusted by this person. He's a thief. He's lower than the lowest and quite possibly on his way to the 9th ring of hell, where mutineers, backstabbers, the Judases and Ptolemys of our world reside. He spat in the face of a every person who has died over these last four years fighting against the dictatorial regimes we've opposed, and the people we've supported who've inhaled pepperspray in defense of our right to speak freely.
We are aware that this person of which we speak, @JackalAnon, has petitioned you for permission to assume custody of this account.
In November 2013, he forfeited the account to a group of activists uninvolved in his treachery. He did this to lessen the blow he knew was coming because of his crime. Now that we have expelled him entirely, he is seeking exclusive control.
This person stole from your community. Not ours. Not Anonymous. But from Twitter. We are not prone to begging, you know that. It's not our style. But we are asking you, in the most serious way, to not fulfill this request. No one that has abused your service, and misled thousands of your users, for their own personal profit, should be allowed retain control of this account.
 We would rather see it burnt to the ground.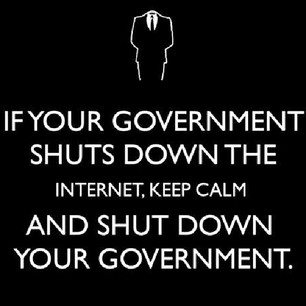 The news site has since posted a follow up status report with a detailed accounting of funds:
You may have noticed some chaos taking place on this account lately. A lot has happened in the last few days. As the group of @YourAnonNews (YAN) users who have recently inherited this account (after actively maintaining it for quite some time), we would like to bring everyone up to speed on the current state of YAN.
In spring of 2013 those of us not already involved in YAN were asked to help with a fundraiser and to assist in building YourAnonNews into an independent radical media organization. At the time we were involved with some very successful media / street campaigns and our work began expanding to national environmental causes and shit like that. When Jackal invited us, we were happy to join the "YAN project" with the agreement that it was to be a collective of equals, no bosses, no alienated labor, and no hierarchy. Together we were going to create a weekly news show, provide embedded coverage of direct actions, and run a new website to help ignite protest and DIY journalism around the world. But as you know, it didn't quite work out like that.
Based on our understanding, the amounts listed by "the board" in the previous truth and reconciliation report seem about right. All spending decisions were made and carried out by Jackal. We were not consulted prior to any purchases, except the macbook since it was going to be used directly for editing the YAN show. We did not have access to, or handle, any of the money. There was some implicit trust at the start, but with delays and Jackal's refusal to discuss the money, we eventually all reached the point of concluding the rest of it must be gone. A programmer working on the site was repeatedly told by Jackal that he would be paid, yet he never received any payment. We were unsuccessful in receiving an answer to our repeated question – "where did the money go?" and to date can only speculate.
Below is the indiegogo accounting pulled from the previous statement, with some calculations for your convenience. By all accounts it is agreed about 30k is missing.
$54,668.00 Total Raised
$2,186.72 4% indiegogo
$1,640.04 3% credit card
$8,775.00 Tshirts/hoodies
$1,087.44 cups
$200.00 Stickers/buttons
$2,071.27 mac computer
$2,000.00 dell computer
$3,564.00 sprout social (wtf)
$1,350.00 server
$912.00 dsl
$30,881.53 Remaining
None of us were ever asked to be on the now-defunct board of directors of "Your Anon News, LLC", and the board never offered us a chance to give input on what direction YAN should take. We certainly would have been against a public power struggle over which branch of the former YAN board should have control. Our vote? None of them!

We have always stressed that @Youranonnews should run on horizontal, egalitarian principles, and not as a top-down non-profit legal entity.

We're unsure if @Jackalanon is going to pursue some back door account recovery or not (for everyone's sake we hope he doesn't) but in the meantime our plan is to open this thing up to anons, independent/DIY journalists, and grassroots organizers who are doing work that is worthy of having a YAN signal boost, because that boost is huge.

We considered deleting the account, or renaming it. But this thing doesn't belong to us, it is a product of everyone who has ever shared its articles and increased its reach. We take that responsibility very seriously.

We never asked to be in charge, but we're happy to steer the ship away from disaster.

We will not exploit YAN for personal gain.

We will not accept money in the name of Anonymous.

So while the current operators appear to be determined to resurrect the project and save the brand it is still not exactly clear as the the status the of missing funds.  The allegations are pretty harsh so we are certain the saga will continue…

Have a crowdfunding offering you'd like to share? Submit an offering for consideration using our Submit a Tip form and we may share it on our site!

Sponsored Links by DQ Promote