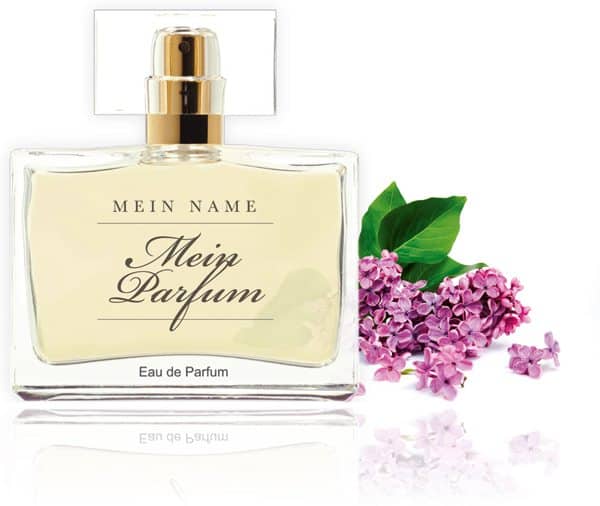 With the help of 614 investors, MyParfum currently has sold over 41,000 shares, raising more than € 200,000 on its Companisto equity crowdfunding campaign.  With 11 days remaining, the company seeks to raise a maximum goal of € 300,000.  With over 88,888 customers, 132,000 individual perfumes sold, and cumulated revenues of € 3.5 million, MyParfum has proved its concept and has become the global market leader in individualized perfumes.  Available both online or in stores, MyParfum's custom scent system enables customers to play the role of perfumer and create their own unique fragrances. Detailed financial and investor information is disclosed to registered Companisto investors.  
Often others make compliments about someone's scent, learn the label and purchase the fragrance for themselves. MyParfum offers a solution to this potential awkward olfactory conundrum: what to do when women or men share their fragrance with their friends and relatives.  It is not uncommon for family members briefly to wear the same fragrance after one family member discovers a gorgeous perfume and buys it for everyone else as a gift!

Fragrance is personal and often considered one's signature, despite the ease of copying another's fragrance with the simple question asked and answered, "What perfume are you wearing?" Although some smartly refuse to share this information, others may be caught enchantingly off guard with the complement and regrettably reveal their secret perfume. Granted, scents change with each individual who wears them, but not that significantly.  No woman wants to smell like her mother-in-law! MyParfum's customized scents truly do remain unique unless the wearer reveals all the selected fragrance ingredients.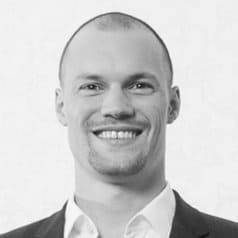 On the public campaign video, Founder and Business Development Manager Matti Niebelschütz describes MyParfum's history. To paraphrase: while attending Humboldt-Universität Berlin, Niebelschütz founded MyParfum. After initial success, MyParfum increased its 2012 television advertising budget twentyfold. As a result, MyParfum experienced too rapid growth and became insolvent. With the help of friends and partners, Niebelschütz was able to buy back, reorganize and reorient MyParfum.  Since insolvency, with an enthusiastic and competent Niebelschütz still at the helm, the company has again become profitable and enjoyed stabilized revenues.
Here's how the three-step process works: Customers simply choose the character of their desired scent.  For women,  options include "sporty," "feminine," "sensual," or "glamorous," whereas men's options include "extravagant," "dynamic," or "charismatic." Then, based on this initial character selection, MyParfum recommends matching scents between 50 exclusive ingredients like Damascus rose, cashmere wood, or Sicilian lemon. Customers may also disregard MyParfum's suggestions and follow their own noses;  with its 100% guaranteed satisfaction, one would assume that people often err on the side of their creativity, but MyParfum reports that only 6% of its customers use the voluntary money-back guarantee. While the choices are not translated from German, the accompanying pictures beside each choice make the fragrance clear.  According to the informative campaign video, more than a million possibilities exist for individual perfumes.  The fragrances are produced in MyParfum's in-house laboratory.  The perfume bottle can also easily be individualized and labeled with one's own name, a created name, or a photo.  Bottles come in a variety of shapes,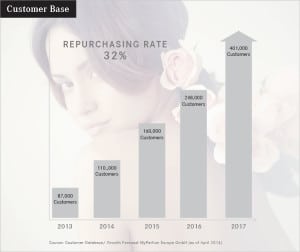 colors and sizes, as do fonts and applied designs. The result is a truly unique perfume in a personalized bottle, which suits one's own preferences, taste, and character.  The whole process takes only a few moments.
Connecting online and offline sales is the next step for MyParfum.  With its new atelier in Berlin attracting people from all over the country to its perfume workshops, the EO Accelerator program alum Niebelschütz plans to expand the ateliers country-wide to enable customers to make their own individual scents.  Three partnerships are currently in the works to establish ten to thirty MyParfum branches.   The bespoke scent bars are reminiscent of Body Shop's once thriving scent concept.  Still further, Niebelschütz looks to expand in the international perfume market occupying an underpopulated niche.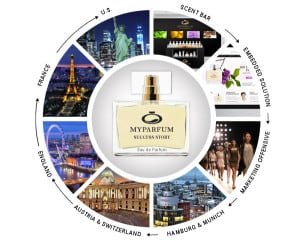 In addition to equity, MyParfum offers some exciting fragrance incentives ranging from a 250€ investment, for which funders receive five miniature bottles of the company's most popular perfumes for women or men, to a 15,000€ investment, for which funders receive VIP backstage passes to Berlin Fashion Week, including travel costs within Germany, an exclusive dinner with Niebelschütz and Managing Director Carina Stammerman, a stay at a five-star hotel and the lifelong-discount  'MyParfum Goldcard 25.'
Current and potential investors may look forward to continued MyParfum updates on Companisto.
Have a crowdfunding offering you'd like to share? Submit an offering for consideration using our Submit a Tip form and we may share it on our site!