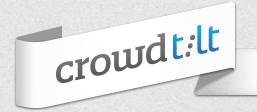 Crowdtilt, the crowdfunding platform that prides itself in its ability to pool money for "literally anything" has just announced a new feature for their growing application.   Sell Something, is a new tool that allows brands and individuals to pre-sell products, tickets, or whatever to their networks through customized campaigns on Crowdtilt.
The team at Crowdtilt wanted to offer a simple sales channel that minimizes risk but streamlines sales process and Sell Anything is the new tool.  Crowdfunding campaigns may now "tilt" based off of number of items sold.  Described as extremely flexible, the new twist on their platform can be set up in minutes. 

"The ability to sell products and tickets has been one of our most requested features, and we're really excited to be rolling this out to all our users today," said James Beshara, CEO of Crowdtilt. "Whether you're creating customized shirts for your kickball league, a limited edition hand-made bag, or selling tickets to an event, you now have a way to inspire and tap into to your community in the quickest, simplest way ever. Sell Something really delivers on the promise of social commerce."

"We used Sell Something to market a limited-edition DODOcase to our community and donated the profits to Not For Sale, an organization dedicated to ending human trafficking," said Macy McGinniss, vice president of marketing, DODOcase. "It was a simple, quick way to create a flash sale and reach our network with a unique, customized offer."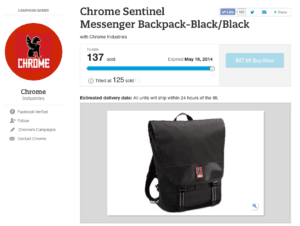 Pretail is a super hot space in the crowdfunding world.  Being able to gage demand while generating the sufficient funding to pay for production is huge.  No more over / under estimating market demand.  Crowdtilt is recognizing this dramatic shift and is now offering the capacity to sell "anything" on their platform.  Of course there is a fee charged that will begin at 2.5% but for early adopters that fee is being waived today.
Sell Something has also helped smaller brands and individuals with strong networks offer products to their communities, powering successful campaigns for Alexis Ohanian, who sold signed copies of his new book Without Their Permission: How the 21st Century Will Be Made, Not Managed, Chrome Industries, which offered a flash sale on its iconic backpacks, and Saturday Down South, which has a passionate audience of SEC football fans. In addition, Sell Something has been used successfully to ticket events across the country, from birthdays on boats to a graduation parties for hundreds of people.