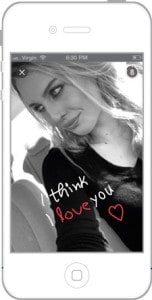 Currently listed on RockThePost, San Francisco-based Ansa pitches itself as the safest place for personal conversations on iOS or Android operating systems. According to its pitch, Ansa is a pre-revenue/seed-stage product targeting the college-aged demographic in the $32 Billion Consumer Products industry. Ansa Founder Natalie Bryla and Co-Founder Evgeniy Altynpara have industry expertise and have graduated from the GE/Omnicom Media Incubator accelerator.  To date, further detailed financial and investor information regarding this crowdfunding campaign remains disclosed only to registered RockThePost investors.
By offering the three timely options of "Off-the-Record Messaging," "Self-Destructing Media" and "Synced Deletion," Ansa has quickly carved itself a niche in the kingdom of mobile communication dominated by Snapchat with its ephemeral messaging.   Here's a detailed breakdown of these features, courtesy of Tech Crunch's Romain Dillet:
"Off-the-Record Messaging: Communicate off the record, so no trace of your conversation is left behind. Self-Destructing Media: Use the self-destruct timer to send photos, videos, and drawings that disappear seconds after delivery. Synced Deletion: Synchronized deletion enables you to erase messages you've shared with others in the past."  Ansa  becomes a secure messenger that allows people to send disappearing messages – think Snapchat but with photos, videos and colorful drawings –  to friends and communicate without leaving a trace behind when the help of its "self-destruct timer."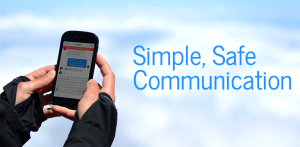 With options to send messages that disappear seconds after delivery, or take back the messages that have already been read, Ansa empowers its current 30,000 users to let go and share freely with friends knowing that deleted messages will also be removed from Ansa's server. And, if a screenshot is taken, Ansa will immediately notify the user.
Bryla launched Ansa exclusively on stage at Tech Crunch Disrupt in September 2013. This exclusivity enabled TC's Dillet to be privy to some very captivating Ansa product updates:
"The app allows you to communicate in more creative ways. You can apply filters to your pictures and draw goofy things before sending them. If you want to communicate using a popular song or a cute image, you can search Google images and YouTube without ever leaving the app.  All Ansa features put you in control of your conversation.  To notify you when your friends join Ansa, the app allows you to sync your address book and Facebook account. But it seems like Ansa users are going to use the messaging app only with a few close friends — so they don't have to convince their entire address book to switch to a new service."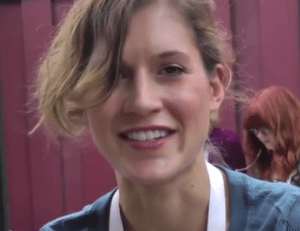 When Dillet asked if group messaging was possible, Bryla said that the startup won't develop this feature, "because we think it's not personal." In fact, Ansa works a lot like good old text messages. "You can send one message to multiple people and they can respond individually," she said.
In a quick Q&A session at Tech Crunch Disrupt with CEO Bryla, a CU-Boulder Engineering grad and General Electric and Omnicom Media Incubator 2012 alum, fielded questions from Judges Patrick Gallagher (CrunchFund), Julia Hartz (Eventbrite), Rick Klau (Google Ventures), Matthew Prince (CloudFlare):
JH: How do you compete with Snapchat?
A: I need more than photos.
RK: What data do you have that this is a big opportunity?
A: It's been interesting talking to people. Snapchat is targeting a younger group. When I'm talking to older people, they really get Ansa.
MP: A server component that is holding my content. Where are copies of my messages? Should I trust Ansa for business communications?
A: Everything is encrypted. When you send a message, it goes to our servers then it gets delivered. If you do a sync delete, it's deleted from our servers.
PG: What is the background of the founders?
A: Before this, I've been doing a subscription and delivery startup.
A future monetizing plan is in the works according to Bryla in a poignant YouTube interview with entrepreneur and Cruiseable Co-Founder JD Lasica, to build an ephemeral advertising platform. When businesses experience a slowdown, they could provide a flash deal through Ansa which would self-destruct in a specified time to help drive traffic instantly when needed.
Registered investors may look forward to continued Ansa updates on RockThePost.
Have a crowdfunding offering you'd like to share? Submit an offering for consideration using our Submit a Tip form and we may share it on our site!