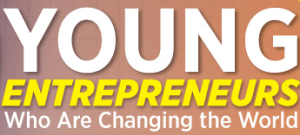 Here is another interesting infographic that touches on the crowdfunding space.  The team at Degree Library have put together their own spin of the youngs and how they are doing by disrupting old businesses and creating new ones. Degree Library is a resource for students seeking a higher education.  All good stuff about the importance of learning with tons of advice.  They have selected 9 specific entrepreneurs to highlight and there are several crowdfunding names on the list including:
Slava Rubin – CEO and co-founder of crowdfunding giant Indiegogo
Shiza Shahid – founder of the Malala Fund that started small and grew into something incredible aiming to improve girls education.
Palmer Luckey – founder of Oculus VR – a company who launched an incredibly successful crowdfunding campaign and then was inhaled by social behemoth Facebook.
The other 6 names are pretty impressive too but my only question is – why limit it to 9?  Today we are seeing a burst of creativity – much of it sponsored by the crowdfunding world.

Source: DegreeLibrary.org

Sponsored