Now Raising Equity, Nomad First Raised Funding on Kickstarter.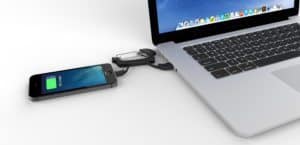 Nomad, the designer and manufacturer of minimalist smartphone accessories, has listed its equity crowdfunding campaign on CircleUp.  Known for its NomadKey, the company has also introduced new products including the solid carabiner-sized NomadClip USB cable and NomadCard on the newly launched company website.

Committed to product design and development, the San Francisco-based company of fifteen recently tweeted its newest partnership with Fluxmob, creator of the USB battery wallcharger, The Bolt, calling the partnership "the ultimate charging team." Descriptions of Nomad's newest products and corresponding sourced details for the peripatetic follow below:
NomadClip: "Smartphones are critical to our lives. So it follows that having a USB cable on hand at all times should be a natural part of your everyday life, too. We focused on shaping NomadClip to be as similar to a carabiner as possible so you can clip it anywhere and integrate it into your life. It's with you when you need it, and out of your way when you don't. Made from steel and high grade polycarbonate, NomadClip is designed to be as tough and versatile as you are."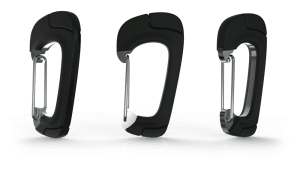 NomadKey: "There are three things you carry with you everywhere: your keys, phone, and your wallet. Which is why we designed NomadKey to be as similar to a house key as possible in size and shape, so you can be sure to always have a charging cable on you. Though NomadKey was originally intended as an emergency always-on-you cable, it turns out that it's also perfect for everyday charging. Made from high grade polycarbonate from Bayer Science and flexible rubber TPE from Dupont, NomadKey is as tough as it is tiny."
NomadCard: "Since you're never without your wallet, you're now never without a charging cable. We went to the technical extremes to make NomadCard as thin as possible while still functioning as a full USB charge/sync cable. Made from high grade polycarbonate from Bayer Science and flexible rubber TPE from Dupont, NomadCard is as stout as it is slender."
*Future product: Includes a Lightening cable or Micro USB and USB 2.0.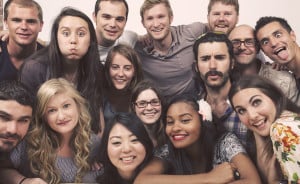 "From planes, trains and automobiles to your bedroom and beyond, USB ports are not only worldwide, they're everywhere: TVs, printers, keyboards, TV-boxes, stereos, game consoles, airports, bars, homes, cars, airplanes. So go ahead and forget that 3ft cable and that wall plug. NomadClip/Key/Card is all you really need."
Nomad's vision, "to expand aggressively, reinvest profits, develop products across multiple mobile categories and firmly establish ourselves as a leading brand with a global footprint," stems from the early success its first product, the ChargeCard.
"Like any good nomad, we started developing our first product, ChargeCard, while living on the go," Nomad's website indicates. "Between a grandmother's basement, a parent's garage, a raggedy old boat and the open road, we raised $161,000 on Kickstarter in the summer of 2012 to help bring our vision of the world's most portable USB cable to life. We publicly debuted in January at CES 2013. In fall 2013 we raised $171K on Indiegogo to help launch our second product, ChargeKey."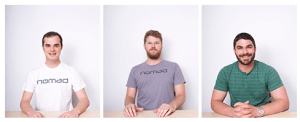 Concepted in 2011 in Madrid, Noah Dentzel, Brian Hahn and Adam Miller's ChargeCard Kickstarter campaign overfunded by over $110,000 with the help of 5,428 backers. The ChargeCard iPhone 4 was debuted at CES and named by CNET as one of the top three products to buy.  In August 2013, Nomad launched new versions of its iPhone 5 and Micro USB ChargeCard. By March 2014, Nomad surpassed $2M in sales.  To date, over 100,000 units have been sold and shipped to 113 countries, according to Nomad, with 47% of the units sold in the US.
Nomad Co-Founder and CEO Dentzel has worked in IT since graduating from Dartmouth College in 2010, focusing on "building and scaling products for the modern minimalist." CO-Founder and CPO Hahn worked in film and satellite imagery analysis before joining Nomad's caravan.  Current Nomad advisors include former CTO of Best Buy and Founder of Geek Squad Robert Stephens, Founder of tuenti.com Zaryn Dentzel and the former Creative Lead Firefox and Founder of Songza Aza Raskin.
Updated information is available to CircleUp registered investors regarding Nomad's crowdfunding campaign.
Have a crowdfunding offering you'd like to share? Submit an offering for consideration using our Submit a Tip form and we may share it on our site!