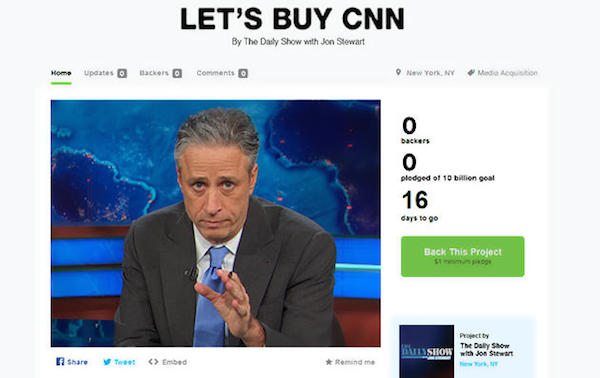 On Tuesday evening (July 22nd), host of the Daily Show, Jon Stewart, announced the launch of a $10 billion Kickstarter crowdfunding campaign to purchase the television network, CNN. During the show, Stewart discussed Rupert Murdoch's recent business strategy to purchase CNN's parent company, Time Warner.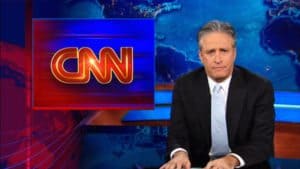 Although Murdoch has been unable to purchase the company so far, reports reveal if the deal is successful, Murdoch would have to sell off CNN to avoid regulatory problems. With that said, Stewart urged all viewers to go to the website Letsbuycnn.com to contribute to the "cause" of purchase the network.
Explaining the $10 billion purchase, Stewart commented, "That's a lot of money for anyone, but not a lot of money for everyone. Which is why tonight we are starting our Kickstarter campaign to buy CNN."
According to the Hollywood Reporter, the website mimics a Kickstarter page, though without allowing users to actually give towards the goal. The page reads, "IF RUPERT MURCHOCH BUYS TIME WARNER, CNN WILL BE FOR SALE! SO LET'S BUY IT AND AND… DO SOMETHING WITH IT. WE'RE NOT SURE WHAT YET."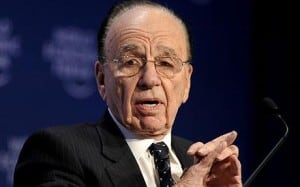 "CNN, America's first 24-hour cable news network, has been terrible for many, many years. Does it have to be that way? Who knows, maybe it does. So let's find out for ourselves"
"This $10 billion, all-cash bid for CNN would secure control of a massive television network reaching over 100 million homes in the US alone, which we could then use to rebuild a news organization befitting this proud land. Or more likely we'd use it to make a lot more poop jokes. Either way, you get to watch!
Rewards for those who contribute funds are the following:
$10: You in a CNN 21 Box
$10,000: You in a CNN 6 Box
$15,000: You in a Carol Costello 2 Box with 5 Minutes of FreeStyling
$25,000: Take Molly with Fareed Zakaria
$5,000,000: 24 Hour 2 Week Hunt for Your Lost Car Keys
$1,000,000,000: Host a CNN Anchor Hunger Games Fight to the Death
$10,000,000,000: Martin Savidge Couch Simulator
The crowdfunding giant does not feature Stewart's campaign and has yet to comment about the situation.
Check out the clip from last night's show below.
_________________________________________________
Have a crowdfunding offering you'd like to share? Submit an offering for consideration using our Submit a Tip form and we may share it on our site!