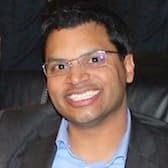 Manny Fernandez, has been recognized as the 2014 "San Francisco Angel Investor of the Year" by Startups Showcase.  Manny is CEO of crowdfunding platform DreamFunded and founder of the SF Angels Group.
"Manny Fernandez is a leader in San Francisco angel investing with the founding of SF Angels Group and his on stage investment of one of our winning pitching startups www.TycoonRe.com," says Jose De Dios founder of Startups Showcase. "He has willingly shared his knowledge about the angel investing process with other angels and the startup community through public speaking and informal mentoring."
"Manny is a key partner and advocate for founders. As an advisor and investor in Tycoon Real Estate, he has shared incredibly valuable strategic insights and contacts to help move my startup forward." — Aaron McDaniel, Co-Founder/CEO of www.TycoonRe.com
"It is an honor to receive the Angel Investor of the year award, and I would like to thank all the people at Startups Showcase and the startup community," said Fernandez. "I am continually amazed by the many good innovations and startup opportunities presented."
Fernandez leads SF Angels Group, a 28-member group of accredited investors.