The Infinity Boxes is a series of ten works of art created by Matt Elson rooted in social experience,  as it takes at least two people to 'activate'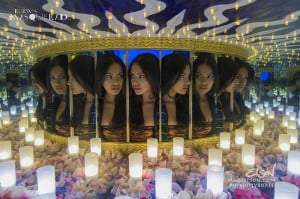 them. Focusing on the elements of play, fun, interaction, aliveness, and conscious awareness, according to campaign "the ultimate goal of The Infinity Boxes series is the creation of hundreds of boxes that elucidate new ways to perceive art in hypersocial settings that make their exhibitions and the venues that house them come alive."  The Infinity Boxes provide an organic kaleidoscope experience for viewers.
Since its most recent chapter of The Infinity Boxes began in April 2012, the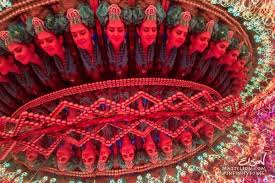 installation has been shown to approximately 40,000 people in California and Nevada. According to the campaign, the overall response has been consistently positive with its diverse audience which ranges from artists to grade schoolers to professionals in venues including Art & Music festivals and museums. Hoping to reach a larger audience, Elson has turned to BNN Funding to raise $20,000 for the US Tour.  To date, over $3,300 has been raised by 35 early backers.  In addition, today The Memorial Art Gallery at The University of Rochester launched its concurrent crowdfunding campaign, also partnering with BNN Funding,  for its upcoming The Infinity Box installation.  MAG seeks to raise $6,500 to help cover the costs of its 19 October 2014- 4 January 2015 exhibit. By collaboratively crowdfunding, initiating concurrent crowdfunding campaigns, the hope it to mobilize groups and organizations that share a common interest in an idea to mobilize and provide both national and local media exposure.
Between August 2014 and January 2015, The Infinity Boxes are planning four  main stops in an effort to continue to challenge audience's perceptions of vision and their interactions with others:  the Beloved Festival in Tidewater Oregon; Burning Man in Black Rock City, Nevada; ArtPrize in Grand Rapids, Michigan; and Memorial Art Gallery of the University of Rochester, New York.  Crowdfunds will also be used to build a 25' diameter octagonal tent to house the boxes.  Additional funds raised will cover box upgrades (such as steps for children and better lighting), travel expenses and insurance.

In The Infinity Box campaign, details regarding overfunding include the following:
$30,000 will construct two more boxes: Infinity Box No. 11 "Community." Every contributor to this campaign will be acknowledged with his or her name painted on the outside of the box. Infinity Box No. 12
$40,000 will construct Infinity Boxes 11 through 13, plus fund a trip with The Infinity Boxes to Art Basel Miami in December 2014.   Infinity Box No. 13 "My Lover's Box," is a life-size box for two people to climb inside together.
$50,000 the above + more boxes! No. 14 "PERFORMANCE," will stand 10 feet tall, with walls of one way mirror (so viewer can see inside from the outside) and rigging for a silk aerialist, a pole dancer and a fire performer.
What is the origin of Elson's The Infinity Box series?
"In 1982 I was finishing Art School at Pratt Institute and working on a series (with a wink and a nod) called "Paintings for the Blind,"  paintings with color so aggressive that even the blind could see them. So what next? How about giving each eye something different to see? So I built a box out of white foam core and painted parts with India Ink and used bits of mirror here and there. It was a lightweight model and most people got sort of ill when looking inside – including me. By design there was no place for the eyes to rest, nothing to focus on with both eyes. I tossed it when moving back to California in 1989 but the idea never left."

Elson continues, "From about 2007 – 2011 I kept a big, heavy, ugly version of a box in my Art Studio near Venice, CA. It had thick grey walls made of cement board I found in the garbage behind my studio one day. It was pretty awful to look at but the idea of doing something with a box and human perception was still there so I put it together and kept fiddling with it for a couple years.  In 2010 I purchased a FASTFRAME art framing store in Long Beach, CA. It had been in the same location 21 years and the master framer was amazing (and had been there 20 years). After a couple of years of getting to know the business and the moulding manufacturers, I decided to try again with a new box. This time however only one idea would be explored per box. And each box would be a work of Art inside and out. The idea was to make them very beautiful on the outside to attract a viewer from across a room and to make them stranger and less comprehensible the closer you got to the box. Like a fractal, The Infinity Boxes should recede as you approach, they should open before you in unexpected ways, they should surprise and delight you at every turn."
To incentive backers, both campaigns offer reward incentives including name recognition for $5 and cast metal black enamel medallions for $35.  Larger contributions to the installation yield some interesting rewards such as private museum tours, Infinity Box paintings and full-sized Infinity Boxes.  The Infinity Box US Tour campaign closes on 13 August; The Infinity Box MAG campaign closes on 4 September.

Have a crowdfunding offering you'd like to share? Submit an offering for consideration using our Submit a Tip form and we may share it on our site!

Sponsored Links by DQ Promote