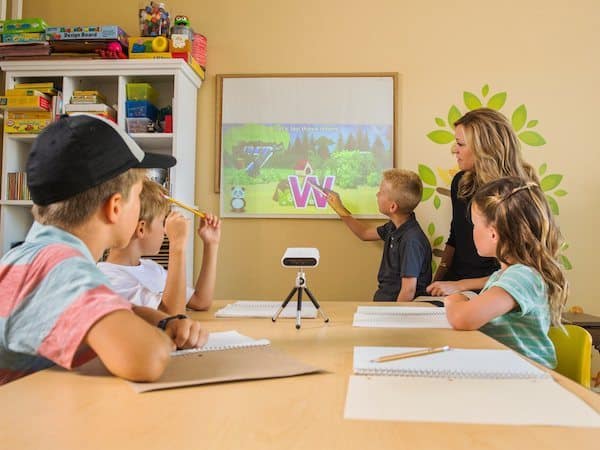 Creators of the all-in-one gadget TouchPico launched its crowdfunding campaing on Indiegogo on Sunday (July 27th) to raise $50,000 for the innovative handheld projector that turns any surface into a giant 80" interactive touchscreen. Within one day, the project reached its goal and today (July 29th), its hit over $61,000 from close to 230 backers.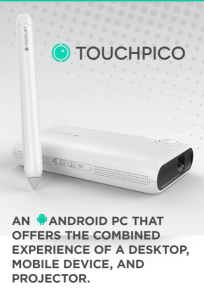 Along with being a project, TouchPico is an interactive Android PC with projected touch interface and wireless streaming that allows the user to do the following:
Project: a 80" displace to any flat surface.
Interact: Use the infrared Stylus to touch the wall (like a smartphone touchscreen) as the projector can read touch inputs.
Two-way: Interactive and two-way, meaning the use could use it to project Skype chat on a wall.
Unlimited apps: Download any app from Google Play and use as normal.
TouchPico is considered unique because it provides users with many versatile options. It's for children, parents, dancers, teachers, businessmen, yoga enthusiasts, gamers – virtually anyone.
The device's stylus has a tiny infrared emitter. Its signal is captured by the TouchPico's tiny built-in infrared camera and processed by an image processor to convert it into touch screen coordinates.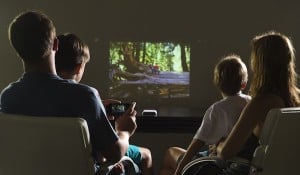 For it being completely versatile, TouchPico is still considered a portable, handheld gadget for those on-the-go. It's slightly heavier than a Samsung S4 and just about the same size. It can easily fit in a pocket or a briefcase.
TouchPico also supports native Android apps, but since the screen goes beyond the limits of traditionally sized mobile screens, the developers can do so much more:
Develop board games that involved the whole family with several people playing on the wall or Android smartphones.
Develop educational games, allowing teachers and students to interact with each other via the projected screen on smartphone.
Build new apps to share, discuss ideas or projects on Interactive Table.
Any app idea that could flourish with a larger screen will benefit with the features of TouchPico.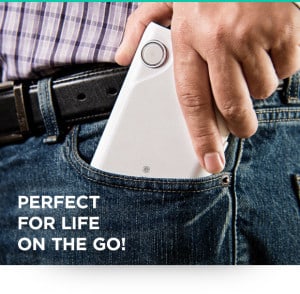 The TouchPico team notes, "We're happy to introduce a special pledge for developers that allow them to receive a TouchPico immediately, start development and secure app installation on all TouchPico devices ordered in 2014."
"Developers won't have to learn any new technologies; simply pledge for TouchPico Developers, and we'll coordinate logistics offline immediately."
In regards to its timeline, the team also noted that TouchPico will be shipped between October 15-30, 2014.Its crowdfunding campaign is set to close on August 26th.
___________________________________________
Have a crowdfunding offering you'd like to share? Submit an offering for consideration using our Submit a Tip form and we may share it on our site!