Let's Own The News' is a crowdfunding campaign that has been launch to purchase The Times and The Sunday Times from media baron Rupert Murdoch.  The initiative is being supported by The Young Foundation,  a group that seeks to "harness the power of social innovation to tackle the root causes of inequality".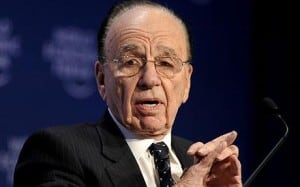 The campaign page itemized the reasons for their crowdfunding project:
80% of the national newspapers we read are controlled by 5 families, this is not a free press and it undermines our democracy. Our vote is worth little if a few people control the information we read.
We now have a unique opportunity to reduce this concentration of media power by using crowd funding to acquire The Times and The Sunday Times from News Corp.
We argue the newspapers are an attractive investment despite being slightly loss making. We outline how they can be turned around to make a profit and how this is aided by a crowd bid.
We target raising £100m, £120 per reader, to fund the acquisition of the newspapers for up to £50m, with the remainder to make investments to take the newspapers to profitability.

In a release the campaign organizers stated;
"It's now three years since the phone hacking scandal erupted, we've had a high profile trial, the Leveson Inquiry and a new press regulator. But despite this the power of the press barons remains undiminished and looks to be increasing further. A new organisation called 'Let's Own the News' have put forward a radical solution, launching a crowdfunded bid to acquire The Times and The Sunday Times from Rupert Murdoch."
Founder of the campaign Laurie Fitzjohn,

"Currently 5 families control 80% of the national newspapers we read, this isn't a free press and it undermines our democracy. Our politicians are still in fear of the press barons, scared to act. But now with crowdfunding we have a unique opportunity to collectively take action to defend our democracy. A crowd acquisition of The Times and The Sunday Times would be an important and achievable step in reducing the power of the press barons"
Simon Willis, CEO at The Young Foundation,
"We're backing this campaign because we want to tackle powerful incumbent institutions and groups that perpetuate inequality. It's fundamentally undemocratic that such immense power lies with such a small group who can use their influence to shape public opinion in a way that suits them. The media provides an important and constructive function in society, and we hope that this innovative challenge will pique public interest, promote debate, and ultimately disrupt the disproportionate ownership of the UK's press by a handful of people."

Let's Own the News is asking for pledges to invest online, offering people a chance to make a small investment to "defend our democracy by helping create a truly free press".

________________________________

[scribd id=236009555 key=key-cEQD7KE9tvJrhbEHnvY9 mode=scroll]

Have a crowdfunding offering you'd like to share? Submit an offering for consideration using our Submit a Tip form and we may share it on our site!

Sponsored Links by DQ Promote