BT9, an Internet of Things (IoT) company enabling real time monitoring of the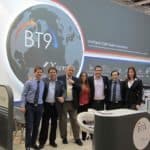 transport and storage of perishable products in order to provide actionable intelligence for optimizing food safety and drastically reducing waste, has secured its target goal, raising $4.04 million in committed funding on OurCrowd.
Co-Founded by Peter Williams and CEO Israel Ben-Tzur, the Israel-based IoT company who have grown the company with their own funds, OurCrowd highlights four reasons why BT9 in on its investor radar:
Internet of Things (IoT) for refrigerated supply chain management: Internet of Things (IoT) is the trend towards connecting previously "dumb" devices via the internet, in order to provide a new layer of actionable intelligence about everyday things. According to Gartner, there will be nearly 26 billion devices on the Internet of Things by 2020, a 30-fold increase from 2009. Perishable foods and pharmaceuticals are transported through a cold-chain: a continuous climate-controlled environment that spans refrigerated ships, trucks and storage warehouses. BT9 has developed a patented hardware/software platform for integrated data collection and communication which continuously monitors the climate around individual food pallets and sends alerts when the produce becomes endangered by changes within the cold-chain (rising temperature, humidity, etc), providing critical real-time data to producers, buyers, and transporters of perishable goods. In so doing, BT9's solution enables supply chain managers to avoid damage before it happens.
Addressing an acute and expensive pain point: According to the Food and Agriculture Organization of the UN, over 50M kg of perishable foods are wasted globally as a result of inappropriate care throughout the supply chain. When the cold chain malfunctions, product quality is compromised, resulting in partial or even complete loss of inventory value and consequent customer dissatisfaction. In the words of a major fresh produce exporter with whom we spoke, "A typical breakdown of the cold chain could result in the loss of 50% – 100% of the product, and that's before accounting for lost transportation costs." In cases where the fault goes undetected and products reach consumers, a faulty cold chain can result in food poisoning, lawsuits and regulatory fines.
 Solid traction with blue-chip customer, creating network effect: BT9 has already won contracts with leading food producers and distributers across the world. Its customers include one of the largest supermarket chains in Europe, which has mandated all 480 of its international suppliers of produce and other perishables (some of the largest in the world) to use BT9's single-use sensors. This contract alone will be worth over $5M annually. BT9 has been already signed individual agreements with some of the world's leading brands including: General Mills, Total Produce, UniVeg, Fyffes and Zespri. BT9's customer base now includes over 150 customers. The company generated $2.4M in revenues last year and is on track to more than double this in 2014, with a pipeline that points to continued rapid sales growth out into 2015.
 Skilled management team with a strong industry track-record: BT9 is led by a team with 35 years of C-level industry experience in food shipping and packaging. Founder, Israel Ben Tzur is a serial entrepreneur, having founded StePac L.A and Cost Right Health Products, after a long established career as an organizational and management consultant. He is joined by Peter Williams, former CEO of D.S Smith plc (1991-2005), a multi-billion dollar packaging company.

BT9's innovative tech Xsense solutions include Fresh Network, Field and Facility Monitoring, Cool Proof, Last Mile, Analytics and Pro.  Customized offerings,

combining several basic solutions, are also available. According to BT9, solutions are "based on that experience we developed a variety of solutions tailored to the needs of the various stakeholders in the cold supply chain. Each solution is based on our innovative sensing and RF data collection and communications technologies and our state of the art science based analytic procedures to generate information for decision makers across internal organizational management levels, from the user in the field or factory up to the top manager at each segment in the supply chain."

To date, neither detailed financial nor investor information has been disclosed to non-investors. Future consumers may look forward to continued BT9 updates on the platform's website.

Have a crowdfunding offering you'd like to share? Submit an offering for consideration using our Submit a Tip form and we may share it on our site!

Sponsored