Ready to put an end to political corruption in the state of Kentucky, Gil Fulbright launched a crowdfunding campaign on Indiegogo last month for his new project called The Honest Politician. Within a few hours of its debut on the crowdfunding giant's platform, the campaign reached its initial $20,000 and by the closing date, it raised $114,569.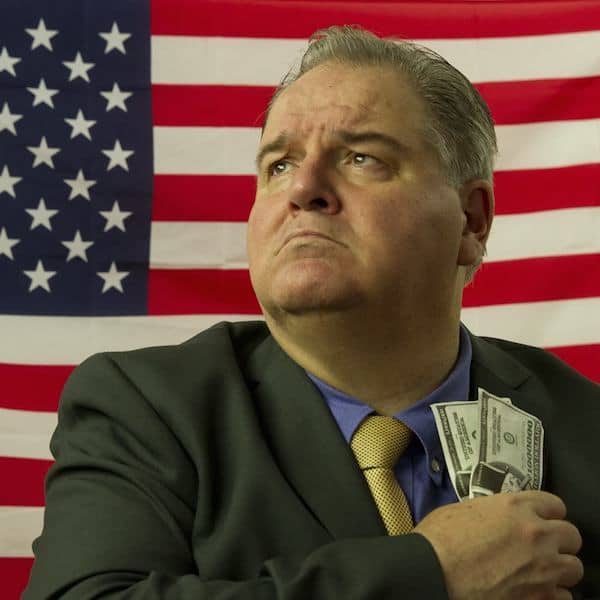 The goal of the Honest Politician project is to help fix America's corrupt political system by letting Fulbright against politicians Mitch McConnell and Alison Lundergan Grimes in the Kentucky Senate Race.
The project's team wrote, "America's biggest problems are going unsolved because our government is overrun by 'Big Money' special interests and lobbyists. The amount of money corrupting our political system is at an all time high, so we're setting out to make 'fixing the corruption' the #1 issue in America."
"Enter, Gil Fulbright. Gil is a satirical Senate candidate – and 'honest politician' who will openly take any position on any issue… for the right price. We're running Gil for Senate in Kentucky during the most expensive Senate Race in American history between Senator Mitch McConnell and challenger, Alison Lundergan Grimes.
The ultimate question remains, why Kentucky? Although Gil will be in New Hampshire to help take down a "sold out candidate," he will still be running in Kentucky and is continuing his campaign there through November.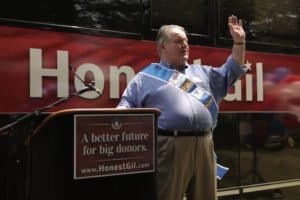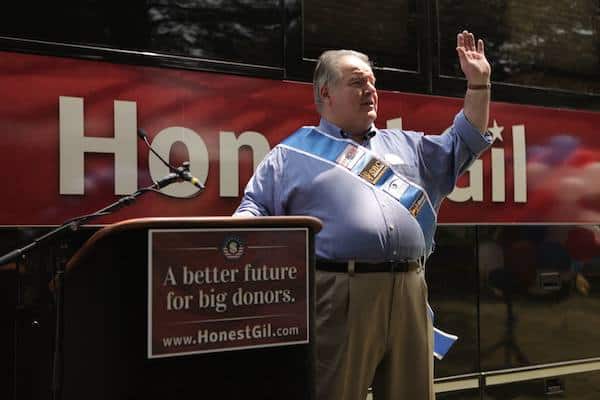 The team explained, "In New Hampshire, we're partnering with Lawrence Lessig's crowdfunded Mayday PAC to help them achieve their mission of a Congress committed to fundamental election reforms in 2016. They've carefully selected a handful of races for 2014, and invited us to help tip the scales in a New Hampshire primary where one candidate is committed to fixing our corrupt political system, and the other is a notorious Big Money sellout."
"We set out to get people in Kentucky, and across the nation, talking about fixing our corrupt political system. Because of the overwhelming success of our campaign to date, we've decided to go even further)."
Originally with $20,000, Gil's would be doing the following:
Rent a campaign bus
Launch campaign
Put "Honest Political Ads" on the air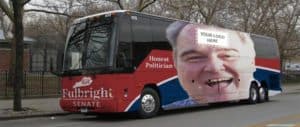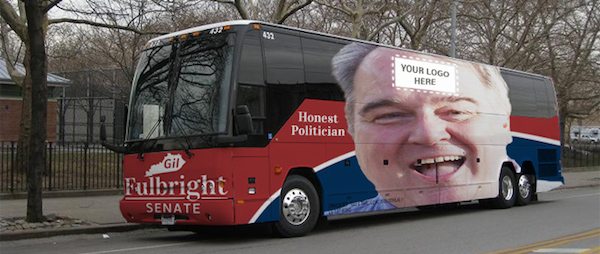 Additional funding would go towards:
Run a billboard campaign
Bring in Kentucky's best PR firms
Launch a full-on and blitz
Hit the internet, hard
Help take down a sold-out politician
In regards if this "political run" is either Republican or Democrat, the team wrote, "It's neither. We are a strictly non-partisan movement, and our consists or everyone from progressives to Tea Party conservatives. Confronting the kind of systemic corruption that's paralyzing our government will require a massive movement – that means putting partisan differences asides and focusing on where we agree."
________________________________________
Have a crowdfunding offering you'd like to share? Submit an offering for consideration using our Submit a Tip form and we may share it on our site!