Luevo has announced partnerships with fashion weeks across North America, including with Fashion Week San Diego, Portland Fashion Week, Fashion Week Brooklyn, DC Fashion Week, Fashion Week Tampa Bay, Kansas City Fashion Week, Virginia Fashion Week and Dallas x Fashion. Luevo is also the official e-commerce partner of Art Hearts Fashion – the closing night event at Mercedes Benz Fashion Week, NY and is collaborating with other designers showing during New York Fashion Week.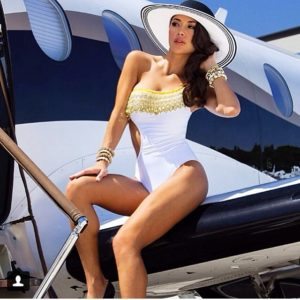 The fashion platform will allow participating designers to load runway shots or showroom images from their latest collections into their dedicated Fashion Week boutique on Luevo, and fans may then pre-order the designs they love. It's an idea that supports both sides of the equation: fashion lovers have access to emerging designers and next-season looks while designers receive the support of cash flow to produce their collections.
"So many fashion lovers support local design but until now it has often been a "look but don't touch" proposition – if a retailer didn't pick up the line, the collection wasn't available. With our Luevo partnership, shoppers have access and more control, in that through their preorders they actually dictate what goes into production," says Allison Andrews, founder of Fashion Week San Diego.

"Everything we do in life should have meaning, as a designer I am truly blessed to have the opportunity to be showcasing on such an amazing platform and as a producer I am truly blessed to be supporting such a great cause. Our partnership with Luevo seems like the perfect fit for style of designers that create unique collections. Often times a designer's runway items never make it to retail, but with Luevo we have direct access to the consumer, making it a valuable tool for the designers involved" says Erik Rosete, designer and founder of Art Hearts Fashion events.

"We looked at crowdfunding websites and thought a similar idea would work in fashion, to support designers in a critical period of their collections and their careers. The early days for a designer are tough, the talent is there but the resources to get up and running may not be. We can solve that problem, with our pre-ordering platform" says Ana Caracaleanu, one of Luevo's founders. "We are delighted to be able to support the local talent across American cities and are pleased to be able to make Spring/Summer'15 collections available to shoppers anywhere in the world."
The site works like any other online shopping boutique with one exception – buyers pre-order or "reserve" the designs they're interested in, and only when the designer goes into production are they charged.
"The precedent is classic couture, or the history of trunk shows," says Caracaleanu. "You see the collection, you choose what you're interested in and then it gets made and sent to you later. We think of fashion today as being instant access but in fact its roots are in delayed gratification."
Luevo will launch with the first Spring/Summer'15 collections live during New York Fashion Week and expect to see new designers every week throughout the season. Luevo launched their platform in late 2013 with first design Bri Seeley leading the way on the fashion site.