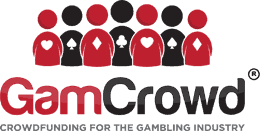 GamCrowd, a crowdfunding and crowdsourcing platform that targets the gambling industry, has announced that it has "fully funded" its initial crowdfunding round via its own platform. The company has raised £200k for 10% of the Equity in the company with 8 days remaining in the campaign and the company intends to leave the campaign open for "overfunding" until the closure date of 2nd September to allow a few latecomers to take advantage of the same offer .
GamCrowd CEO Chris North was pleased to have successfully completed the campaign;
"we were keen to fund via our own platform and we have now experienced what we are encouraging start-ups to go through. We have learned a lot and rigorously tested our platform and processes and intend to make a few positive changes to the business and the platform following our experience."
The minimum investment for the crowdfunding round is £500. The company intends to use any additional funds raised to increase its marketing budget and support the first round of start-ups that will be looking to fund via the platform. Investors need to be registered on Gamcrowd, have completed a questionnaire and a declaration that they are sophisticated investors or High Net Worth individuals. They will then get access to the GamCrowd pitch video, business plan and financial projections. The platform gives potential investors the chance to ask the founders questions about the business and these are all made public so other interested parties can share the same information.
Founded in 2014, GamCrowd Limited is an Appointed Representative of Resolution Compliance Limited which is authorised and regulated by the Financial Conduct Authority.