Cameron Winklevoss and Tyler Winklevoss founded Winklevoss Capital in 2013 and have significantly bolstered their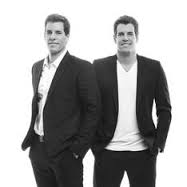 portfolio in the last four months.  Widely known for their claim that Mark Zuckerberg had stolen their idea for Facebook, the Harvard rowing grads have been in contentious litigation for the last seven years with Zuckerberg.  Ubiquitous coverage includes features in the Wall Street Journal, Armie Hammer's portrayal of the twins in the Oscar-winning The Social Network and a recent feature in Vanity Fair. 
But the Winklevosses have proved that there's more to life than Facebook's billions, evinced by their active investment in Bitcoin and recent investments toward creating a "frictionless world." 
Their Bitcoin exchange-traded fund, the Winklevoss Bitcoin Trust, is listed on the Nasdaq stock exchange, and according to Rachel Abrams of The New York Times,  the move came one day after the Securities and Exchange Commission issued a warning to investors about Bitcoin, saying that it created new "concerns" for investors.
Moving on to WinkDex.  After launching WinkDex in February, an info source that provides developers with the most accurate estimate of bitcoin spot prices, accurately weighing price, volume and timeliness of the transactions among the
largest qualified bitcoin exchanges, the Winklevosses were then encouraged to create an API which is now live and fully supported.
The company's site reveals the duo's credo: "At Winklevoss Capital, we believe in determined entrepreneurs. Risk-taking is just in their blood. By providing guidance, relationships and capital, we reinforce their pursuit of a frictionless world and a better human experience. Because those who dare to fail greatly, dare to achieve greatly."  "Daring to achieve greatly," Winklevoss Capital launched a syndicate fundraising campaign on AngelList.
Helmed by the twin brother Principals and Founders Cameron Winklevoss and Tyler Winklevoss, the firm has invested in thirty startups since its founding. A portfolio sampling of the syndicate includes the following startups:
micro-location based home automation Zuli, crowdfunding deity AngelList, Shyp, ReTargeter, Cambrian Genomics, Paddle8, Flexport, Caviar, Glio, Fedora, MeUndies, BOXC, Regalii, Partender, Hitch, Authy, Hukkster, Addy, One Month Rails, Keepy, Cargomatic, MATTERNET, Cabify, Memebox Corporation, Lenda, Kimono Labs, Astro, People.Co, Minibar, SumZero, CARBON38, and Xapo.
Total carry per deal is 20% with a minimum backer investment of $5,000, with a typical investment of $25,000.  The firm expects five syndicate deals per year.  The firm's AngelList syndicate includes a note from Winklevoss Capital: Investors "can opt out of any particular deal without penalty, not expect many (if any) updates and be comfortable with risk and prepared to lose your entire investment without complaint."
Regarding dealflow, Winklevoss Capital  "will try to share (best effort) seed tech deals where we have at least a $100K allocation, and the founder / entrepreneur allows it and will focus on companies where we believe there is strategic benefit to having a large group of angels that can help accelerate growth."
Potential and interested AngelList investors may click here for more complete and updated fund details and materials.
Have a crowdfunding offering you'd like to share? Submit an offering for consideration using our Submit a Tip form and we may share it on our site!