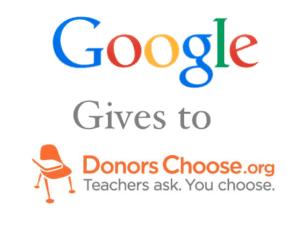 For the second time in a week, search giant Google has swept into crowdfunding site DonorsChoose and fully funded requests for every teacher – this time in Austin.  Last week, Google did the same for teachers in Washington, DC funding over $230,000.  Google has done the same in several other urban markets too.  For the Austin funding, Google kicked in over $87,000 contributing to 117 teachers for their 9,914 students.
"We are thrilled to partner with DonorsChoose.org to support all of the classroom projects of teachers here in the Austin area. We owe a lot to our teachers and want to thank them for being a constant source of inspiration," said Gerardo Interiano, Public Affairs Manager at Google.

"We are so humbled and grateful to Google for their devotion to our teachers and students," said Charles Best, founder and CEO of DonorsChoose.org. "This is a great day for Austin area classrooms."
133 projects were funded in Travis, Williamson, Bastrop, Caldwell and Hays counties. Google posted a message on every funded project, letting teachers know they were part of the surprise.
In addition to their project funding initiatives, Google has also supported several DonorsChoose.org programs over the years, including the AP STEM Access program, which launched over 500 new AP STEM courses at high poverty schools nationwide.
Founded in 2000, non-profit DonorsChoose.org, simplifies classroom funding.   More than a million people have donated $260 million to projects that inspire them. An estimated 12 million students have received books, art supplies, field trips, technology, and other resources.