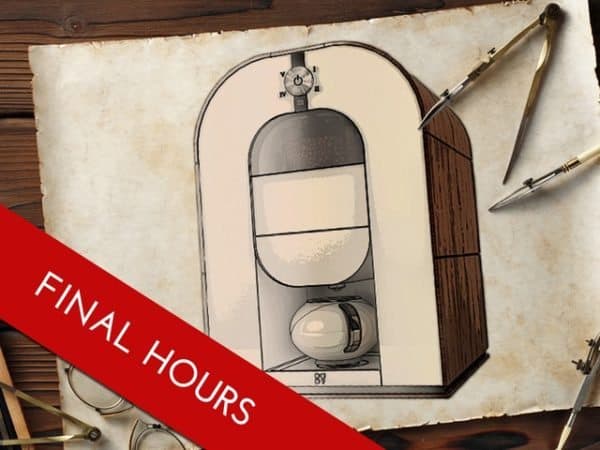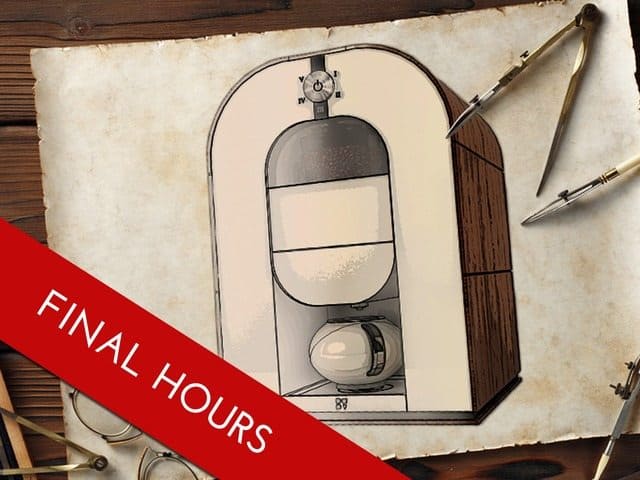 Bonaverde is described as the "worlds first roast-grind-brew coffee machine".  The company founders have run two rewards based crowdfunding campaigns – one each on Kickstarter and Indiegogo. Bonaverde is equity crowdfunding now back on their home turf in Germany where they have nearly raised 1 million Euros on a campaign that is scheduled to end pretty soon.
The Kickstarter campaign, that closed back in 2013, was widely successful – over 2200 backers delivered over $680,000 to the startup. Most supporters signed up to receive what is described as a really cool coffee machine:  Roast, grind and brew your own coffee in a single, well engineered device.  On Indiegogo, a campaign that followed the Kickstarter project, over 430 backers helped to raise almost $125,000.  Again most backers signed up for one of the fabled coffee makers.  But now there are signs of backer regret as supporters are posting discontent from changes in the product – that were clarified only recently.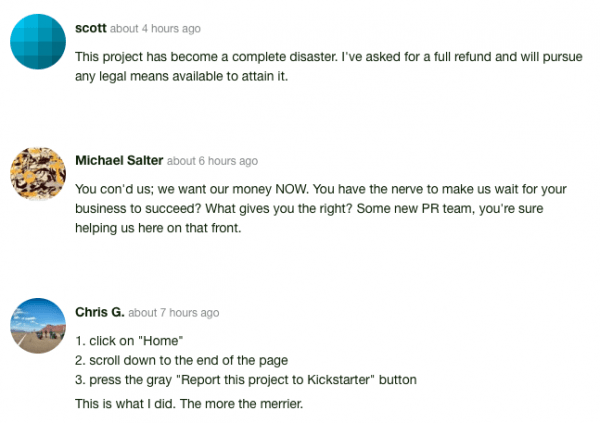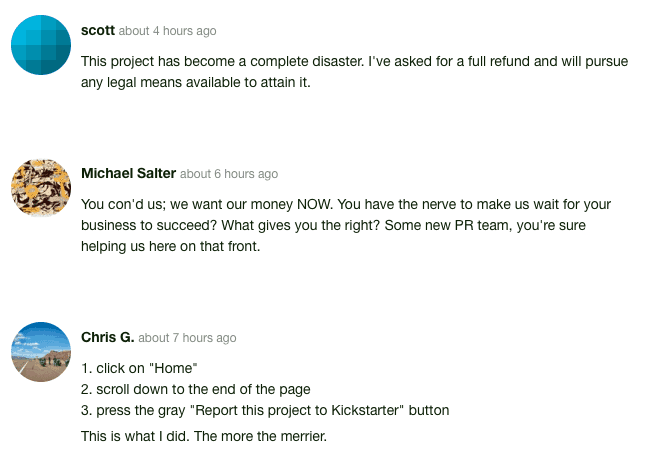 In a backer update Bonaverde said they were limiting the machines to only let coffee be used from their contracted farmers stating;
"The chip is single use in order to prevent the usage of beans which are not directly traded from farmers. Our vision is to empower farmers on a global level. If we do not build entry barriers here, then all established coffee retailers can easily sell green beans which they buy for prices below production costs of the farmers and consumers can use it in our machine."
Beyond the strict control of coffee available for the crowdfunded device, the original design was deemed impossible to create;
"The round top of the old design made it impossible to include all technical features. When started building the old design we also discovered some misproportions in the design drafts (see picture below) which made it taller than what we expected. Because of that, if we wanted to realize the old machine it would have been a way taller than the new one."

"Another problem we faced was concerning the production material. Grinding coffee requires a lot of physical power and therefore the whole machine has to persist this continuous tension. The old design was built of wood which proved not suitable for this kind of machine. In order to work around these size and material problems the machine would have caused more than double the production costs we had planned. Therefore, there was no chance to implement the old design."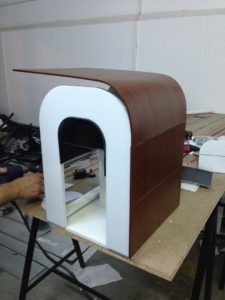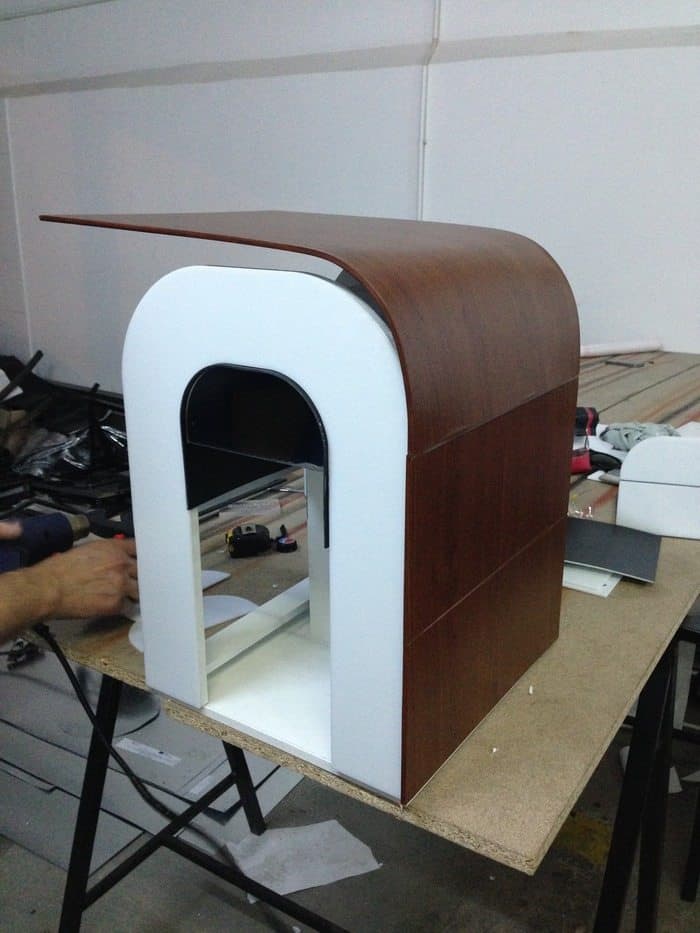 The above quotes are from a backer update posted on September 12th, but the grumbling has been going on for longer than that..  The original ship date for Bonaverde machines is stated to be October 2014 – a date that one would expect to pass without any backers receiving a machine.
Now crowdfunding campaign rewards are notorious for late delivery – some of the most well known campaigns ever have shipped late.  We all know that Kickstarter is "not a store" and you are funding someones vision of a product (or service) – this is the way crowdfunding works.  But the dramatic change in design, and draconian control of the coffee a user can buy, has been simply too much for some backers.  Now Bonaverde states that supporters may file for a refund, which they will honor – but only after they generate profits from future Bonaverde coffee machine sales;
 "…You'll get a full refund as soon as we make enough profits to pay you out. If you are not entitled to receive a machine, please write an e-mail to [email protected] and you'll get a full refund as soon as we make enough profits to pay you out."
For a $300 coffee machine, this fact of tying refunds to future profits has generated some backer anger.  The PR stumble risks spilling over into the investment crowdfunding campaign – where investors continue to fund the young company.  If backer comments are accurate, some supporters are already contacting both Kickstarter and SeedMatch management on the Kickstarter (and Indiegogo) campaign challenges.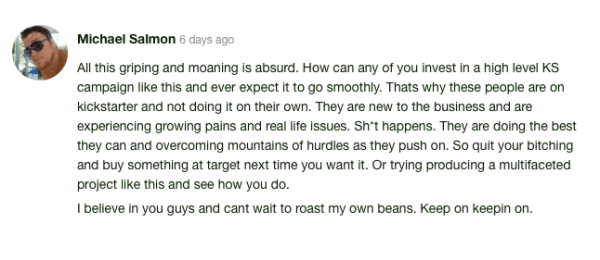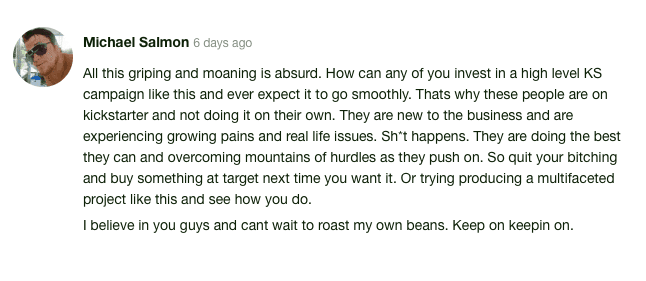 Now it is difficult to discern how profound the discontent amongst supporters truly is – at least some are content to accept the changes and move on.  But perhaps Bonverde management should take a clue from their earliest supporters and try and accommodate some of their requests.  I know that if I was participating in the investment crowdfunding campaign on Seedmatch – I would want to clearly understand how  Bonaverde was managing this somewhat dicey situation.
______________
Update:  One of the backers has compiled a list of the names of backers who have expressed their displeasure with the Bonaverde project. There are over 300 on the list and the number continues to grow.
One poster, "Don Cameron" states they have received a response from Kickstarter.  The project team at Kickstarter has apparently reached out to Bonaverde in the past to remind them of their obligations.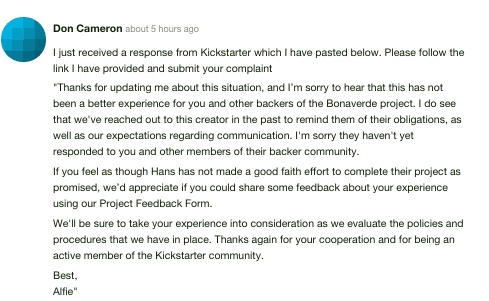 Have a crowdfunding offering you'd like to share? Submit an offering for consideration using our Submit a Tip form and we may share it on our site!

Sponsored Links by DQ Promote