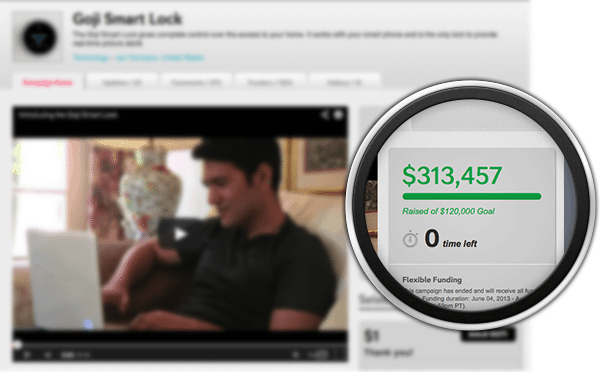 The Goji Smart Lock ran a pretty successful rewards based crowdfunding campaign on Indiegogo back in the summer of 2013.  Capitalizing on the growing interest for internet connected devices, Goji had developed a sleek product that updated the deadbold lock with new technology and features all controlled on your iPhone.  With design cues from the highly popular Nest,  Goji easily passed their funding target of raising $120,000 with a final close of over $310,000 from more than 1200 backers.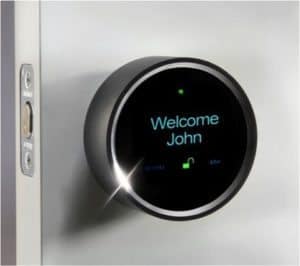 Not only had Goji found the pot of gold at the end of the crowdfunding rainbow, they also basked in the media glow of high profile exposure being featured on ABC World News with Diane Sawyer as part of the "Made in America" series.  ABC was not the only media outlet to feature the success of the company.  Other names that covered the startup included the FT, CNET, USA Today and more.
The collective success led to additional high profile agreements. According to the company web site, from a post over 9 months ago, office supply retailer Staples had jumped on board;
"We're happy to announce that the Goji Smart Lock has been selected as a partner for Staples Connect™ from Staples, joining its ecosystem of connected devices that can be controlled through the Staples Connect Hub and App with any smartphone, tablet or PC.

The Goji Smart Lock joins a select lineup of certified home- and office-automation products from brands such as Lutron, Philips, GE, Honeywell, Yale and First Alert, among others."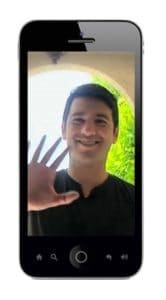 Staples was not the only well known retailer agreement signed. Walmart and Home Depot hopped on board too.  Not to mention online retailers like Amazon, Build and NewEgg.
Goji, led by CEO and founder Gabriel Bestard Ribas, leveraged all of this success to package up a powerful offer for an investment crowdfunding round seeking to raise $800,000 – at least according to one site.  Any why not?  A product with proven market demand with a cool design in a growing IoT segment.  Bestard-Ribas had credibility too.  Prior to founding parent company Bielet, he was VP of Digital and Social CRM Business Strategist for Danone in Barcelona.  He even won the "National Marketing Award of Innovation in 2011".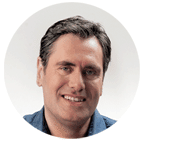 But somehow, somewhere – things apparently took a wrong turn.
In February of 2014, we reported on grumbling backers of the Indiegogo campaign.  Delivery was first pushed to March of 2014. And then onto June.  The delays were allegedly driven by ongoing quality issues.  To quote the company:
"…we've had to make the decision to push the ship date to June 2014. We are 100% committed to sending you a top quality product – the best possible smart lock for the home – and the team was unanimous that ensuring quality is our top priority."
Two months later Goji posted their final public update on the Indiegogo campaign sharing that the team has been hard at work field testing manufacturer prototypes.  Since then?  Crickets.  Both the Goji Twitter and Facebook accounts have been eerily quiet too.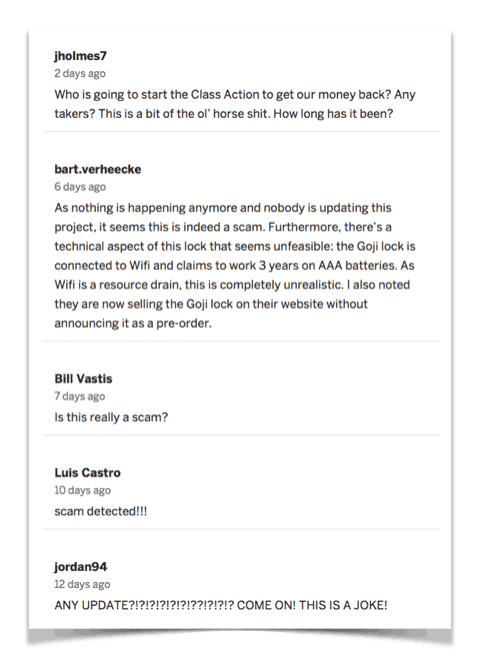 A quick review of backer comments on Indiegogo show a profound sense of disappointment and being "another example of honest people being duped out of their money".
One disgruntled backer has stated the company did inform him they now expect to ship this coming November.
It appears that Goji has transgressed that sacred rule of communication. While delays may be tolerated, ignoring those supporters who believed in the product and backed the company's vision should never be left to hang around and wonder if they have just been scammed.
Now I understand that many small businesses have unforeseen challenges.  Long hours of hard work quickly turn into days and then weeks.  As time moves forward new issues pile to the top of the list.  Perhaps Goji has just been too busy to respond. So I reached out to Fundable, the equity crowdfunding platform that is listing the offer for Goji, who informed me via a company spokesperson they were not aware of any issues at the company.  Checking in with Gabriel (the founder), Fundable was told he would contact Crowdfund Insider soon.  Unfortunately one week later, radio silence continues.
Fundable clarifies they do not vet companies in any way.  They state they have rarely had to pull a company off of their platform after being listed but they do clarify,
"All that said, if we were to get numerous concerns about a company we would discuss that with them and determine whether there was a reason to delist them on the platform.  As of yet, this hasn't presented itself as a big challenge."
Fundable notes that crowdfunding suffers from an epidemic of "failure to deliver" but this is not really fraud.  For the Indiegogo backers though – the cost remains the same.

So this all begs the question.  Who would want to invest in a company that ignores the consumers who purchase their products?  Especially those that have paid for something before it really exists.  Anyone?  Let me know if you are out there.  And if we hear anything from Goji we will be certain to pass it on.

Have a crowdfunding offering you'd like to share? Submit an offering for consideration using our Submit a Tip form and we may share it on our site!

Sponsored