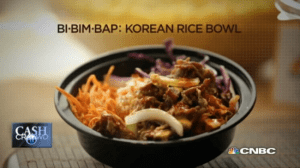 Financial news network is launching "Cash Crowd" a new series that is combination shark tank / crowdfunding where entrepreneurs get 30 seconds to pitch a product to the "ultimate" panel of investors while simultaneously connecting with "thousands" of accredited investors registered on equity crowdfunding platforms. CNBC did their first round this week and started the show with a quick recap of what exactly equity crowdfunding is – as it stands today.
KosoFresh is the first company to pitch on Cash Crowd that is currently offering shares on CircleUp.  They are looking to raise $1.5 million in funding.  You will have to watch the video to find out if the investors back the company.
This is not the first stab at capturing the crowdfunding market for CNBC but it may be the most effective to date.