The saying, "You are what you eat," may need some tweaking.  To date, over $44K has been invested by more than 37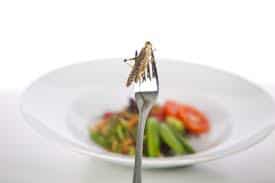 investors into Insect Europe's belief that edible insects are the food of the future. The campaign seeks to raise $253,100 for 15% equity offered.  Valued at $1.69M and listed on Symbid, Insect Europe already sells a wide range of insect products on its website, Delibugs.  With its crowdfunds, the Lelystad-based company will expand its business into the production of insectmeal on a large scale. "We would like to start with meal made of ground crickets, followed by mealworms, grasshoppers and other insects. We want to process the insect meal into delicious, healthy and sustainable food," shared the company.  Insect Europe's sustainable product, which contains high levels of good amino acids and protein, also offers low-fat and "delicious" insects.

"We have started a relatively small breeding facility [of insects] for human consumption, we now control the processes and are ready to take it to the next step, by expanding our production through automation, so that we can work in a more efficient and cost reducing way. Animal welfare and food safety are important factors that are taken in account in the decision making process. At our facility in Lelystad, we have enough room to expand our business for years to come. Because of some big orders in the petfood sector, our farm will expand in the coming months," answers Insect Europe when asked whether its insect products are scalable.
Insect Europe explains its edibles and its profit structure:
"Our high quality cricket meal offers a solution to the search for substitute protein sources. This semifinished product is applicable in in many finished procucts, as a variation on the existing animal protein. We believe edible insects as semifinished product is the future. The food industry will be challenged to find applications for our product, for example as a supplement for soups and sauces or bread and pastry."
Helmed by entrepreneurs Ferdinand Zomerman, David Young, Margriet van Ewijk and Patrick Leers, Insect Europe is "setting up a large scale insect breeding facility, where we can produce substantial amounts of crickets and other insects for human consumption. We will play a leading role in the European insect industry through upscaling and automation. Using insect meal as raw material (alternative protein source) in the food industry. Introducing new products made of insect protein or by using our insect meal as substitute for animal protein, we will make the food industry more sustainable. Because our target quality is also desirable in the petfood industry, we have already found buyers in this sector."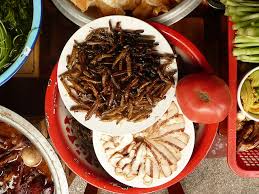 According to Insect Europe, In addition to becoming a future owner of this innovative company, backers will be rewarded with an expected dividend of 5% after three to five years, once profits are made. Additionally, backers may enjoy 10 discount vouchers of 10% discount for personal use, 10 discount vouchers of 5% discount to give away to your friends and family and updates on the latest developments as well as priority invitations for workshops, events and tastings.
Investors above 1000 euros also receive a special insect dinner invitation, a dinner never to be forgotten.  Interested investors may hop, fly, dig, or squirm here to learn more detailed information about Insect Europe's Symbid campaign.
_______________________________________________________________
Have a crowdfunding offering you'd like to share? Submit an offering for consideration using our Submit a Tip form and we may share it on our site!