Seeking to help the mastermind behind the famous Milton Bradley's Operation, John Spinello, fellow game makers Tim Walsh and Peggy Brown have launched a crowdfunding campaign on Crowdrise to raise $25,000 for his upcoming oral surgery. Since its launch earlier this month, the project has surpassed its initial goal and is currently at $29,759.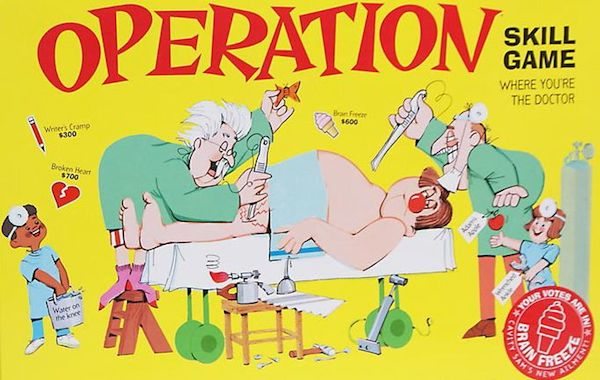 Sharing a backstory of Spinello's board game history, Walsh and Brown wrote, "In 1964, John Spinello invented an electric game where the object was to insert a metal wand into holes without touching the metal edges of the openings. If you failed to have a steady hand, a buzzer would startle you with great delight.
"John sold his game to a toy invention firm for $500. The game was then licensed to Milton Bradley, modified and released a year later as the game we all know and love. The game of Operation. $500 is all John Spinello ever was paid for his invention."
Also explaining Spinello's dedication to the game, they noted, "Over the years, the game of Operation has become a favorite to millions of people whose childhoods were all a bit brighter and buzzier because of it. John watched over the decades as the little electric game he designed spawned everything from socks, boxer shorts, purses, shower curtains, neck ties, greeting cards, and, of course, scores of licensed editions of the game."
In regards to what fans/backers will receive for their donation, Walsh and Brown stated, "Much has changed in 50 years. John has had a good life, but has admitted to us that he is struggling to pay his bills and is in need of a medical procedure without sufficient insurance coverage. We launched this Crowdrise fundraiser to call on anyone who has ever played and loved Operation to send John a note and maybe, a monetary gift of appreciation.
"You can also head over to www.ILoveOperation.com to write John an encouraging note or purchase a once-in-a-lifetime gift: An autographed copy of Operation from the original patent holder of the game! (while supplies last)."
One fan wrote, "Thanks for a great lifetime of Operation. My sister and I played together 40 some years ago and my girls play it together now. In fact, there is a game somewhere in our playroom right now. I have to admit, the buzzer was a lot less annoying 40 years ago!  Thanks for the memories."
Another added, "Dear John, I hope your surgery goes well. I bought one of the games. I enjoyed it SO much as a kid…I played it with my kids…and now my daughter is a doctor! Thanks for YOUR invention, YOUR game. And best of health to you."
According to the Chicagoist, Spinello is expected to put the 50-year-old metal box "Operation" prototype he made up for auction on eBay in December.
_____________________________________________________
Have a crowdfunding offering you'd like to share? Submit an offering for consideration using our Submit a Tip form and we may share it on our site!