Texas had 36,000 completed foreclosures between September 2013 and September 2014, the second most of any state during this time according to a recent report by Corelogic.


This week, American Homeowner Preservation ("AHP") was able to help an elderly couple avoid the wave of Texas foreclosures by providing them a loan modification that reduced their monthly payments and principal balance by 33 percent. AHP's modification allowed this couple to stay in the home they purchased in 1994 just outside of Dallas. Eula, 66, and her husband, 71, started having problems paying their mortgage five years ago following the loss of their son and their jobs.
"I went down for a little bit, it just took a toll on me," Eula explained about the death of her son. "It was just real hard, so that had a lot to do with it." During this difficult time, Eula and her husband's problems were compounded when they both experienced job loss. Eula was in dentistry for 33 years and her husband was a longtime iron worker and former professional bull rider. Now, the couple is retired and relies on their social security for income.
When AHP acquired their mortgage, the company offered Eula and her husband a variety of options to settle their delinquent payments. Eula and her husband chose to modify their mortgage and could settle all their delinquent payments for $2,000. The couple initially had a hard time coming up with the settlement payment, however, and Eula's husband ended up in a dragged out court process trying to get money from his IRA.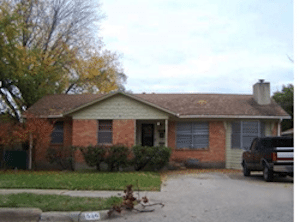 Once the initial payment went through, AHP was able to reduce the couple's monthly payments from $414.00 to $276.00. Additionally, the couple could now settle their principal balance of $66,177.52 for just $44,550.

"We're happy you worked with us and let us stay in our home," said Eula, who was able to work directly with AHP Asset Manager Freddy Constante and the company's founder Jorge Newbery. "Ya'll have worked with us and we appreciate it, and I don't mind telling anybody that ya'll have been real good, and you just don't find that now-a-days."

AHP is supplying relief for borrowers nationwide by crowdfunding pools of distressed mortgages at significant discounts and providing families affordable terms to stay in their homes. Concurrently, AHP offers accredited investors the ability to contribute to the housing recovery in low and moderate-income communities while earning above-market returns.

Sponsored Links by DQ Promote