This week, on the third annual #GivingTuesday, the new "opening day" of the holiday giving season, more than 20,000 partner organizations in the United States and more than 6,700 partners in dozens of additional countries across the globe came together to give back. Partners – including multi-national corporations and global organizations, as well as small and mid-size nonprofits and local businesses– engaged their networks to support causes they care about by giving their time, energy, talents, voices, and donations.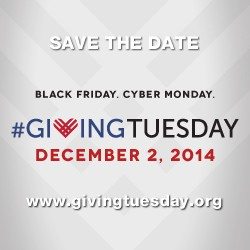 In its third year, #GivingTuesday continued to use technology as a catalyst for supporting and traditional, community-based values and promoting creativity and collaboration in the nonprofit, corporate, philanthropic and civic sectors as well as in schools, colleges and families. The movement provided participating partners with resources to leverage the #GivingTuesday opportunity, and many participated in a huge range of educational offerings in which larger, well established partners shared their expertise and experience in webinars, meetups, toolkits and other forums.
Executive director of 92Y and founder of #GivingTuesday in partnership with the United Nation Foundation, Henry Timms shared, "We have been overwhelmed by the tremendous generosity and creativity of the #GivingTuesday movement around the world. The emerging data is powerful and shows continued growth and momentum, but the impact of #GivingTuesday goes far beyond the numbers. The response to #GivingTuesday – across national and geographic borders – tells a critically important human story. At a time when there are so many issues that pull people apart, #GivingTuesday reminds us that people are really looking for the things that unite us. We are so grateful to everyone who participated this year, and proud to see #GivingTuesday encourage the fundamental inclination to unite for the greater good."
President and CEO of the United Nation Foundation, Kathy Calvin noted,"This year #GivingTuesday went way beyond the Twitter stream and into the mainstream. We saw clearly that people everywhere want to give back, with their time, their energy, their money, and their voices. As an organization, our primary mission is to support the work of the United Nations in order to address the world's most pressing problems. Through a global movement like #GivingTuesday, we connect that mission to broader audiences and people of all backgrounds who are giving back in a big way. This day has become a real rallying cry and global call to action and will continue to provide a meaningful launch to the holiday giving season."
The hashtag #GivingTuesday continues to tap into the power of social media, creating an online community of shared good will among those who give and the nonprofits and organizations that need their contributions to further their good work. The hashtag #GivingTuesday was tweeted 754,000 times which represents a 180% increase over usage last year. During the same period (from December 1 through December 3, ET), #UNselfie was tweeted 39,700 times (183% more than 2013), and more than 7,600 #UNselfie photos were posted on Instagram.