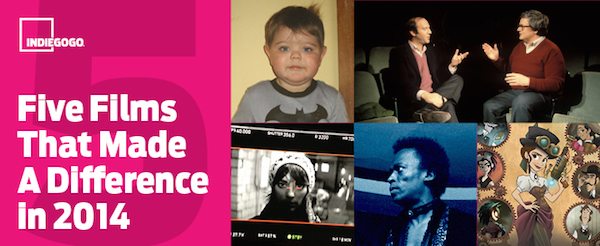 Ringing in the new year with a 2014 reflection, crowdfunding giant Indiegogo has unveiled its own list of films that made a difference in the past 12 months.
Including in the list are the following:
LIFE ITSELF: Directed by "HOOP DREAMS" filmmaker, Steve James, LIFE ITSELF is about the late film critic Roger Ebert. According to the synopsis,the film is considered the first ever feature-length documentary on the life of Roger Ebert, covers the prolific critic's life journey from his days at the University of Illinois, to his move to Chicago where he became the first film critic ever to win the Pulitzer Prize, then to television where he and Gene Siskel became iconic stars, and finally to what Roger referred to as "his third act;" how he overcame disabilities wrought by cancer to became a major voice on the internet and through social media. LIFE ITSELF's crowdfunding campaign raised over $150,000 and premiered in January 2014 at the Sundance Film Festival.  The platform stated, "Released theatrically in July by Magnolia Pictures and set to premiere on CNN in January 2015, the film has made several 'Best of 2014' lists, was named best documentary by the National Board of Review and has been shortlisted for the 2015 Academy Awards."
Batkid Begins: Batkid Begins is described as a film that follows the events leading up to the day Batkid saved San Francisco and what happens when an event goes unintentionally viral. The goal that day was to get a couple hundred people to show up to support Miles Scott and his wish to become Batkid, after battling leukemia for more than half his short life. nstead of a few hundred, 25,000 people lined the streets to cheer Miles on as he saved Gotham. The superhero spirit spilled onto the Internet as news of Batkid's heroics reached over 2 billion people, touching hearts around the world. Batkid was impossible to miss that day as we were glued to our computers, phones, and in San Francisco, our office windows trying to be a part of the celebration. Indiegogo shared, "Director Dana Nachman and Producer Liza Meak came to Indiegogo to help document his heartwarming transformation and battle against cancer in a new film. The project raised more than $100,000 and will continue to honor the boy's legacy into 2015 when Batkid Begins has its world premiere at Slamdance in Park City, Utah; once again showing the world that power comes from within."
Miles Ahead: Iron Man star Don Cheadle launched the crowdfunding campaign on the platform to raise funds for Miles Ahead, a film about famous musician Miles Davis. Cheadle stated, "I've taken my marching orders from Miles' mandates ("Play what's not there." "Fear no mistakes. There are none.") and focused in on a very specific point in his life to explore his relationship with his muse, his voice, his fears and challenges to come out of his silent period and return to the music. I'm hopefully making a movie that tells a story many people can relate to, jazz fan or not. Miles Ahead is not just about the music. It's about what we all face at one time or another in our lives; questions about who we really are, what we have to say and how will we say it. How will we ultimately be defined and who gets to say so?" Noting the film's accomplishments, Indiegogo explained, "Blessed and supported by Mile's family and estate, Cheadle refused to take any upfront fees, put his own money into the project and ultimately arrived on Indiegogo to complete the financing for the long-gestating project while connecting directly with Miles and his fans."
Hullabaloo: As a true fan of steampunk and Disney animation, this campaign is one of my personal favorites! Hullabaloo is described as a  2D (hand-drawn) animated steampunk film that hopes to help preserve the dying art of 2D animation; and by supporting this project, you get to help save 2D animation from an untimely demise. The team, which is made up of former Disney artists, announced, "We want you to join us in making a short film that will showcase the world of Hullabaloo, which we can show to investors to fund a full length 2D feature. 2D animation is a beautiful but dying art form that the animation studios have all but abandoned. But if we can fund this film with your help, we will be able to show investors that people really do want to see a feature length animated steampunk film, allowing us to get the tremendous amount of funding needed to complete Hullabaloo as the full-length feature we believe you want to see." Indiegogo then added, "Hailed as a welcome return to form, the campaign went viral and raised 5x its goal. The now multiple shorts telling several thrilling adventures are set to be completed in 2015 with the hope of an eventual awards run."
A Girl Walks Home Alone at Night: The synopsis of A Girl Walks Home Alone at Night shared in the Iranian ghost-town Bad City, a place that reeks of death and loneliness, the townspeople are unaware they are being stalked by a lonesome vampire. The film premiered at the 2014 Sundance Film Festival and was opening night selection at the MoMA for the New Directors/New Films Festival presented by the Lincoln Center in New York. The film was also distributed in the US by Kino Lorber and was in theaters all over the country this past fall. Indiegogo praised the film by noting, "GIRL WALKS made numerous 'Best of 2014' lists and won Amirpour a Gotham Award, got her nominated for an Independent Spirit Award and had her named as one of Filmmaker Magazine's '25 New Faces of Indie Film.' Amirpour begins production on her sophomore feature in 2015 with financing secured from VICE and producer Megan Ellison (INHERENT VICE, FOXCATCHER)."
Have a crowdfunding offering you'd like to share? Submit an offering for consideration using our Submit a Tip form and we may share it on our site!