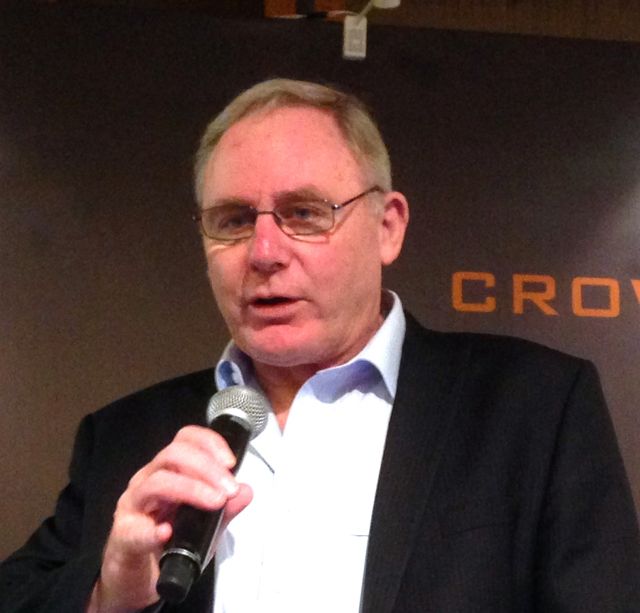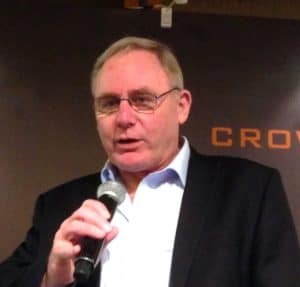 Paul Niederer, founder of the Australian Small Scale Offerings Board (ASSOB) and crowdfunding protagonist, has tackled the global regulatory regimes around the world as they attempt to create rules for the new forms of finance. Niederer criticizes most approaches stating:
"The [regulatory] implementation balance to date tends to favour investor protection which is not unusual as it is regulators and legislators that are primarily responsible for implementation. Often they have no experience or expertise in either the small business and startup ecosystem nor in the early stage investment environment."
Regulating an industry without sufficient experience or lack of expertise is clearly a shortcoming for those who are attempting to create national rules.  Niederer does save some accolades for several sovereign states:  The UK and New Zealand each receive praise from the outspoken Aussie.
"However in the United Kingdom equity crowdfunding platforms have been coupled to a conducive and empowering entrepreneurial investment environment and that seems to be working the best of all. They were also greatly assisted but a facilitative and hands on involvement of the U.K. regulator."
Niederer draws attention to the aggressive tax incentives put in place by the UK Government.  As we all know, small businesses are the engine of economic growth and job creation – the UK has firmly decided to boost this sector.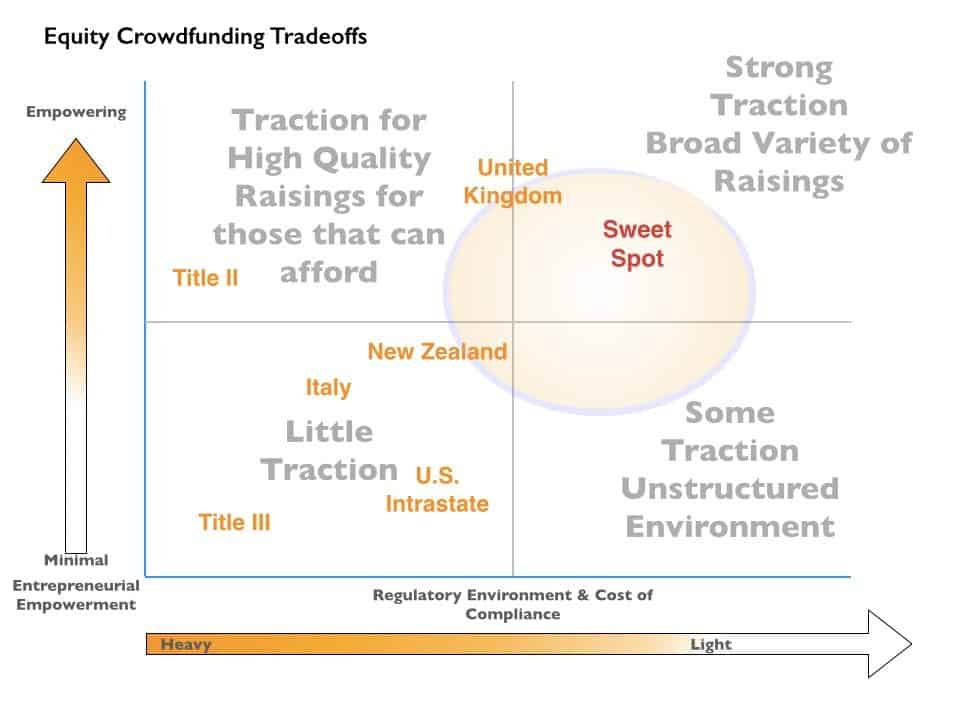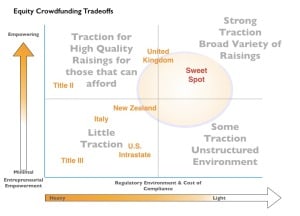 "Witness the United Kingdom. The UK Enterprise Investment Scheme (EIS) is designed to help smaller, higher-risk trading companies raise finance by offering a range of tax relief to investors who purchase new shares in those companies. EIS has become a well established cornerstone of the UK government's efforts to support the flow of capital to small to medium enterprises ("SMEs") and is supported by both tories and liberals. The scheme has proven a huge success with over 2,000 companies raising over £175 million of SEIS investment from the time the scheme launched in 2012 up to July 2014"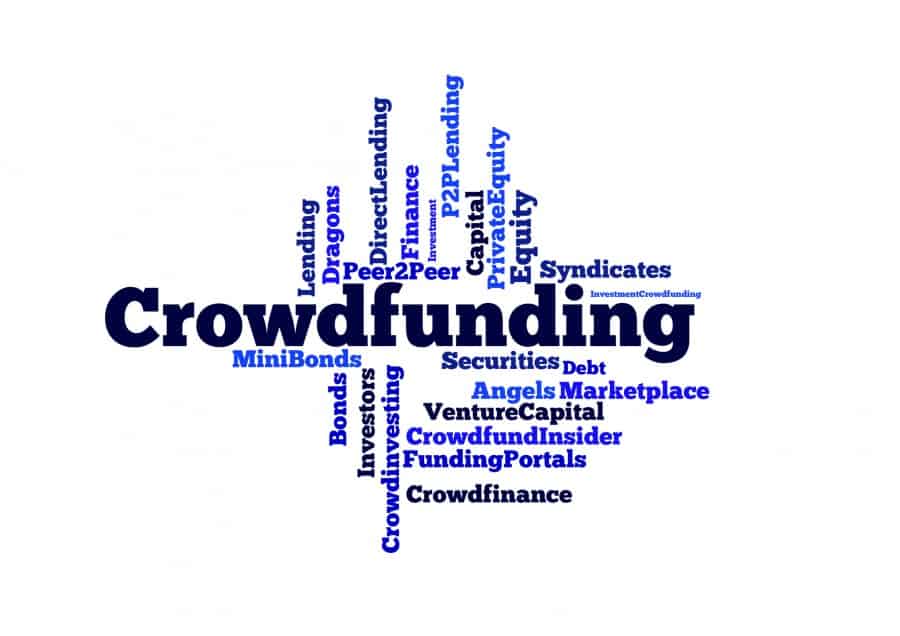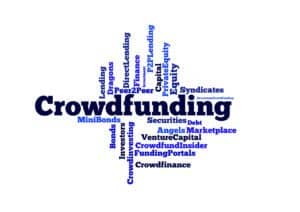 Another part of the world that Niederer notes as having successfully created a solid regulatory regime are his Kiwi neighbors.  He calls it "Best in Class" but then posits that barriers to entry for new platforms are too stiff thus minimizing participation which will make it "doubtful volume traction will eventuate".
What is the solution to all of this?  Beyond replicating the UK approach Niederer declares:
Investors should be supported to take risks within a supportive entrepreneurial ecosystem
Corporate structures detach from the old adage of private and public and recognise today's stakeholders including sweat equity
Crowdfunding regs should match emerging investor types not traditional top right investor types
Crowdfunding is not just for companies in the fast lane.
The onus to be complaint should be on the issuer with the platform being the publisher and investors should be afforded transparency but when they commit they commit and take responsibility for their decision.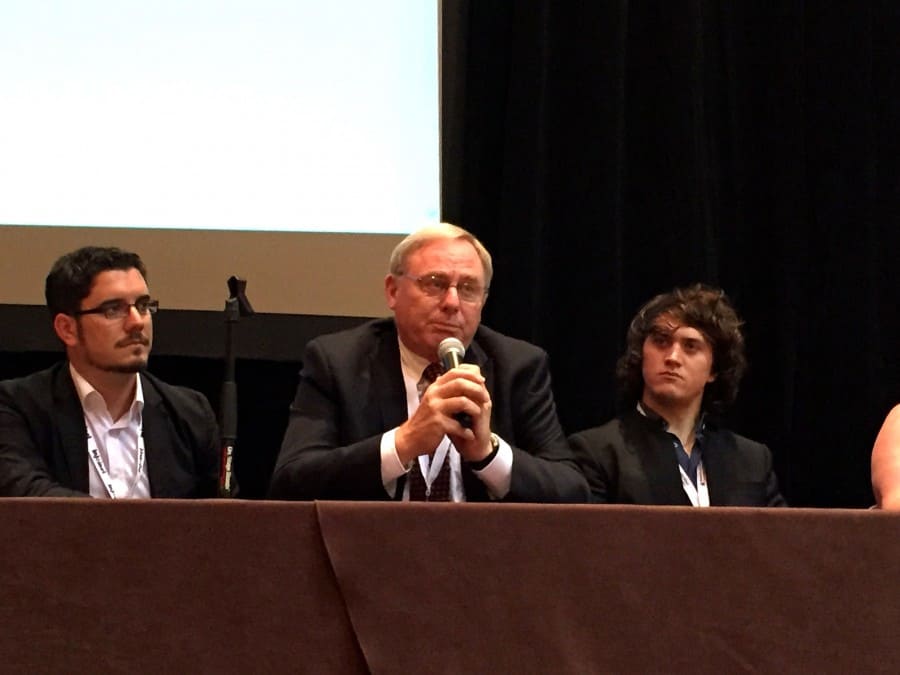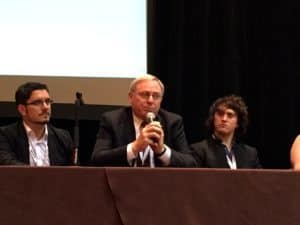 The ASSOB founder believes the approach must be more "Holistic" to be a success.  He believes crowdfunding cannot be just about crowdfunding.  It must be about the entire ecosystem.
"Governments worldwide are pushing crowdfunding regulations independent of startup ecosystems and other small business, job growth and investor initiatives."
Needier believes embracing a Holistic approach by understanding investor risk (and that it is ok) and the needs of a startup ecosystem all sides can benefit.  But as it stands today, "for the most part they are regulated with new regulations totally independent from the environment they are expected to operate in

Sponsored Links by DQ Promote