SeedUps, one of Canada's early equity crowdfunding platforms, was founded by Sandi Gilbert, a well known investment

crowdfunding advocate and co-founder of the Equity Crowdfunding Alliance of Canada.  She is also COO of ECN Capital – a partner company of SeedUps. Today Gilbert summarized SeedUps' activity since launching in mid-2014:
"Until recently, investment in early stage companies was limited to only a few – those high net worth investors that were presented with the deals. As with any disruption of the status quo – it takes time to change old habits but we continue to gain media exposure as the leader in the Canadian marketplace," explained Gilbert. "We are on the ground with the start-up communities in Canada and we are now being recognized as a viable option for early stage company funding."
The platform posts 900 registered users and 700 subscribers "curious" about SeedUps.  SeedUps entrepreneurs statistics are similarly illustrated below: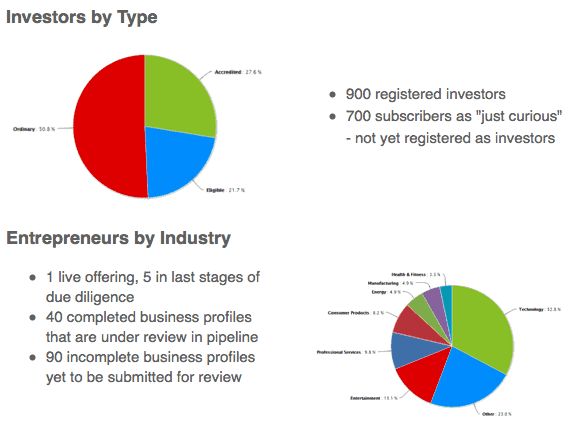 Gilbert also specified how much the SeedUps crowd is investing, between $1,000 and $25,000 per investment, averaging $4,200:  "Investors are presented with the appropriate subscription agreements and offering documents based on their jurisdiction of residence and their qualifications to invest." The new platform targets the funding gap for SMEs in seeking early stage capital in the range of $250,000 to $2 million for a wide range of companies.
Looking ahead to 2015, Gilbert seeks to ignite SeedUps' growth and reach:
"We want to help Canada's young companies raise capital and democratize the private capital markets to include ordinary investors who want to invest in companies they believe in or have a product or service they believe would make their friends and families' lives better. By my calculation, if just 1% of those individuals invested relatively small amounts into Canadian start-ups, that could translate into $1.5 billion in new capital for the very companies that will add jobs, grow their businesses and have a chance to become the next Big Thing!"
For more detailed information and forthcoming investment opportunities with SeedUps Canada, please click here.

Sponsored Links by DQ Promote