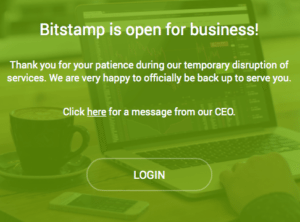 Leading Bitcoin exchange Bitstamp is back online after a difficult week.  Last weekend, on January 5th, an announcement was posted that operational wallets were "compromised" and almost 19,000 BTC (around $5 million) was pilfered. Bitstamp quickly jumped into hyperspace as the all hands on deck alarm was sounded.  Customers were quickly alerted and the site went offline.  As of yesterday all things were operational once again as the platform received a new build with a system that is "safer and more secure than ever".  As a "note of thanks" to loyal customers, all transactions on the platform will be commission free through January 17th.
While the application received a clean build and some new features to battle against evildoers, Bitstamp has saved a copy of the old system so a complete forensic analysis may be completed, hopefully tracking down the thieves.  Bitstamp stated that all deposits held with them prior to the breach will be honored thus assuring their customers.
Bitstamp is open for business! Thank you again for your patience during this time. Read letter from CEO @nejc_kodric: http://t.co/yZzZRILtuk

— Bitstamp (@Bitstamp) January 9, 2015
The new improvements were described as:
DMULTI-SIG

With the integration of BitGo multi-sig technology, Bitstamp is now the first and only major bitcoin exchange to incorporate the industry's best security practices available today.

COMPLETELY NEW HARDWARE INFRASTRUCTURE

The Bitstamp systems are running on 100% new hardware deployed from a completely secure backup of our code and data.

AMAZON WEB SERVICES

Bitstamp is now running on Amazon's world-class AWS cloud infrastructure, architected to be one of the most secure and reliable cloud computing environments available.
Sponsored Links by DQ Promote